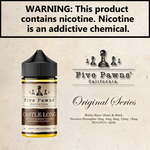 There are different types of vape juice. Some can give you a truly unparalleled experience with its subtle essence of Kentucky bourbon and some can bring a perfect blend of fruits for truly tropical bliss. Here, we are talking about Castle Long Vape Juice by Five Pawns and Caribbean Punch by Glas Basix. Ever tried them? With so many e-juices available it can get confusing to find one of your choices, but we are here to clear it all.
For instance, you cannot use a PG e-liquid in a sub ohm mod. This won't work! So let's talk about the vape juice types and what style of vaping they are made for.
In a nutshell, there are two types of vaping - Standard vaping with atomizers above 1.0 ohms and Sub ohm vaping with atomizers less than 1.0 ohms.
The type of vape juice that you use for each vaping style is very different. E-juices with a PG level of 50% or more are used with atomizers above 1.0 ohms. And juices with 50% VG content or more are used with atomizers below 1.0 ohms.
To figure this out, we must do a quick pit stop answering a very basic question.
What Is Vape Juice?
Vape juice, also called e-juice/e-liquid, is the liquid that is converted into vapor by an electronic vapor device. The 4 basic ingredients that vape juices are made of are -
Nicotine
Vegetable Glycerine (VG)
Propylene Glycol (PG)
Flavoring
VG PG Ratio
VG and PG are vape juice ingredients that are used almost in all e-juices. The difference between both is - VG is a thicker liquid that does not carry much flavor but makes more and thicker vapor. PG is thinner but does not make as much vapor as VG but it carries more flavor and has more throat hit.
The VG PG ratio in the percentage indicating how much VG vs. PG is in a vape juice. There are five different types of vape juice. Those five are-
70 PG / 30 VG
50 PG / 50 VG
70 VG / 30 PG
80 VG / 20 PG
Max VG
DIFFERENT VAPE JUICE TYPES
When you buy vape juice, the manufacturer should have a clear indication of the VG/PG ratio of their products. We have found that 80VG/20PG is the best ratio for both flavor and vapor.
Nicotine Salt E-Liquid
The e-juices are usually 50/50 PG/VG. The idea of the nic salt liquid is to deliver more nicotine without being overly harsh. These e-liquids are usually used in pod mods. There's a lot of nicotine, but not a lot of vapor.
 70 PG / 30 VG E-juice
The e-liquid is made for standard vaping. 70/30 e-juices use a nicotine content of anywhere from 6 mg to 24 mg. A 70% PG e-juice is best for atomizers with resistance above 1.8 ohms. PG e-juices have higher nicotine levels and the throat hit is strong.
50 PG / 50 VG E-juice
It is ideal for atomizers with a resistance ranging from 1,0 ohms to 1.8 ohms. This is a popular choice among people who vape with pod mods. Here the nicotine level ranges from 6 mg to 24 mg. 
This can now give you pretty much an idea about the different types of online vape juice. We hope this will also help you choose the right ratio. So, are you here to buy Castle Long Vape Juice by Five Pawns? Also, do not forget to check out the latest flavors and special offers from EJuice Store.