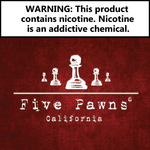 At E Juice we believe in providing innovative and unique vape juice flavors to our consumers and therefore, we carry a wide selection of vape juices by top manufacturers. However, when it comes to innovativeness in flavor profiles, no other manufacturer can beat the flavors from Five Pawns.
About Five Pawns
The journey of Five Pawns began in the year 2012 by three long time friends Rodney Jerabek, Rob Fitzgerald, and Gavin Tucker. They began with 5 complex handcrafted e-juice flavors designed specifically for the vape enthusiasts. They created five traditional tastes that are distinguished by the human palate i.e. sweet, bitter, sour, salty and umami that is described as savory. That is why; the Five Pawns product line is meant for vapers of all kind!
And with such an innovative concept, Five Pawns is leading the e-liquid manufacturers and online retailer in the vape industry. Some of the flavors created by Five Pawns have even won awards and are highly sought-after by vaping enthusiasts who understand both taste and value.
So let us have a look at the best flavors by the brand that we carry in our online inventory below:
Innovative Flavors from the House of Five Pawns
Black Flag Risen by Five Pawns
Black Flag Risen by Five Pawns features a creamy cappuccino e juice flavor enhanced with flue cured sweet Virginia tobacco for a full-bodied taste. The flavor is finished with light truffle cream and mocha-dusted black walnut flavors, providing an amalgamation of two tastes that go together like no other for a great vaping experience.
Castle Long by Five Pawns is a gourmet vape created with a outstanding note of toasted coconut e juice flavor and features roasted almonds that offers a well-balanced mellow taste. It is further enhanced with Madagascar and French vanillas. Moreover this e liquid is laced with caramelized brown sugar and then finished with the subtle essence of Kentucky bourbon for a truly unparalleled experience.
Queenside by Five Pawns is a gourmet vape that combines French vanilla and Bavarian cream e juice flavors. The gentle flavor is exquisitely balanced. Blood orange, a unique flavor, is part of the complex taste, as it is perfectly cooked and sugared.
Made with Granny Smith apples for a mellow apple pie taste Gambit by Five Pawns is a premium vape that features hints of caramel flavor e juice. This e juice is flaky crust that is enhanced with a dollop of French vanilla ice cream and unsweetened whipped cream reminding you of your grandmother's sweet apple pie.
Grandmaster by Five Pawns features a creamy rich peanut butter edge, which makes it a smooth vape juice that is made with fresh banana cream and then drizzled with velvety caramel flavor.
Bowden's Mate by Five Pawns is a gourmet vape which  is made with a seductive texture of semi-sweet chocolate e juice flavor for pleasing the self-indulgent palate. The e juice is sharpened with crisp, fresh mint to capture exhilarating gradients and is finished with a touch of creamy French vanilla.
Symmetry Six by Five Pawns comprises of strawberry with sugared rhubarb and savory cut oat grains and Graham cracker crumbles. Finished with a hint of velvety vanilla cream, Five Pawns Symmetry Six satisfies fruit and dessert lovers alike.