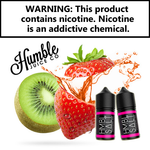 Finding the best flavored vape juice is a never-ending quest. There are just so many flavors - from mouth-watering fruits and devilishly sweet desserts though to cocktail and cereal-inspired flavors.
A Kookie Krunch by Air Factory or Strawberry Kiwi Vape Juice by HMBL Salt or Peachy Tea by Drip More, it can get hard to decide which flavor to buy. But the good news is that these hundreds of flavors can be broken down into a few different types of vape juice flavors, which will make it easier to choose the one that is right for you.
While many smokers who try vaping are tempted to go for the tobacco flavored vape juices, we recommend that you try something new and keep your options open. Who knows if you might end up finding a great dessert flavor that you love, and this can make it much easier to stick with vaping (and quit smoking!)
If you are a frequent vaper and looking for different flavors to try, knowing the types might make you want to try something new. There are different types of vape juice flavors and they can be divided into roughly six categories - deserts, candies, menthols, drinks, tobacco, and fruity.
And we are confident upon finding the flavor category that suits you the best, you will find a new flavor that you are going to love. So, let's get right into it!
THE DIFFERENT TYPES OF VAPE JUICE FLAVORS
Fruity Flavored Ejuices - It is no wonder why these are the most popular type of ejuice flavor. You can get every type of fruit flavor imaginable, in mixed or single varieties, and from hundreds of different brands. The vape juices are generally sweet and have a strong and tasty flavor to them. The fruit flavors that come through the best in vape juices are apple, blueberry, strawberry, and watermelon. We would recommend Strawberry Kiwi vape juice by HMBL Salt to be the best. However, other different fruit flavors can still deliver amazing taste.
Dessert Flavored Ejuices - We are sure, you are going to love all our dessert flavored ejuices. You will be greatly amazed at how the flavors of an apple pie or a chocolate cake ejuice can delight your taste buds, and taste like the real thing. Some of the most popular desserts flavored ejuices you can get are - sherbert, apple pie, ice cream sandwiches, slushies, cakes, and cinnamon buns.
Menthol Flavored Ejuices - If you love that minty cool sensation, menthol flavored vape juices are the way to go. The ejuices come in several different varieties, and you can get much more than just a regular minty taste. Just about every e-juice type has some variation, in menthol also there is a hell lot of crazy combinations to be tried.
In a nutshell, finding the right e-juice is a process of experimentation. To check all our new arrivals and exciting vape deals, do visit ejuicestore.com today.