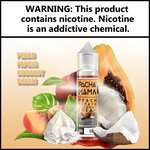 Peach Papaya Coconut Cream vape juice is the perfectly crafted natural tropical fruit flavor blend ejuice by Pachamama Salts. This flavor gives you the delicious, sweetened peach notes along with the undertones of creamy coconut cream and juicy papaya. If you intend to add your tropical side to life, you should try out the Peach Papaya Coconut Cream vape juice by Pachamama Salts.
This fruity, creamy flavored blend is considered as one of the best fruit flavors by Pachamama Salts and you'll be agree that it's a delicious, well-balanced vape. You'll enjoy the trifecta of fresh peach and papaya, sweet coconut milk, and a smoothened, creamy exhale. While vaping, you will feel like Charlie's Chalk Dust taking your favorite peaches and creamy eliquid on a tropical vacation.
Your taste buds will be rewarded with juicy peaches on the inhale and will leave your mouth watering. Your desires for exotic fruit will be smothered with the undertone of yummy papayas. This creamy coconut flavored vape juice brings in the peach and papaya flavors together combining them in the most perfect way. It will leave you craving for more.
Pachamama Salts specializes in providing most thirst quenching vape juices with its natural flavors and sweetness. You may think you can get this taste by biting a fresh fruit. The peachy notes of this vape juice come with the right amount of sweetness that will drive your taste buds wild likewise the natural peach. The creamy base of coconut combines all flavors together while leaving you feeling refreshed and ready for the day.
The Peach Papaya Coconut Cream by Pachamama Salts gives you a refreshing sensation amongst all overly sweet ejuices and dessert flavors. This ejuice brings you the ultimate enjoyment that no other flavors can match. So, it's time to indulge you in the Peach Papaya Coconut Cream vape juice by Pachamama Salts today for an authentic vaping experience.
Charlie's Chalk Dust vaping experts truly believe that vapers from all over the world simply require a bit of tropical delight throughout their vaping lives. Therefore, they search for natural tropic like fruity flavors that will make their mouth water on impact. This is where Peach Papaya Coconut Cream ejuice comes in.
Again if the luscious fruit flavors enchant you unlike anything else, get yourself prepared for an intoxicating exploration of wondrous paradise that you will savor every time you take a pull of this Charlie's Chalk Dust vape juice delight.
If you really want to immerse in the fruity explosion of Peach Papaya Coconut Cream by Pachamama Salts, you should look no further than Ejuice Store. Our delectably flavorful vape juice will leave you fully refreshed and reinvigorated at the end.
Please check out our available flavors from
Pachamama Salts
at
https://www.ejuicestore.com/
and rest assured that you won't regret after taking one pull. So, what are you waiting for! Start shopping your favorite vape juice today.