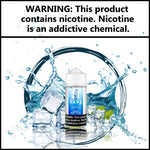 USA Vape Lab is a premier name in the vaping industry providing top-of-the-line flavored vape juices under their belts. One of the most prominent flavors is the Menthol series. It has been well-acclaimed by the vaping community. Made with 100% USA made ingredients, the USA Vape Lab vape juices are exceptionally high in quality.
Crisp Menthol by USA Vape Lab 100ml is a perfectly formulated flavor for those vapers who can't get ample amount of menthol in their lives. This soothing vape juice is ideal for vaping enthusiasts who are used to menthol flavors. The Crisp Menthol e-juice gives you an icy explosion of cooling mint that will leave your taste buds fully satisfied with every draw you take.
USA Vape Lab is a premier name in the vaping industry and is famed for using the freshest ingredients available. Their vaping experts check each and every product thoroughly to make sure that every vaper gets the pleasurable experience they really deserve. Take advantage of huge vape clouds and the top-rated flavor that Crisp Menthol vape juice by USA Vape Lab 100ml delivers.
The ultra-refreshing blast of cool mint and extra cold menthol will complement your taste buds for sure. This ejuice flavor is an ideal option for those who love the taste of menthol and want it to enjoy by itself. Or you can use as an additive to other flavors as per your preferences. On inhale of Crisp Menthol vape juice, get ready to experience the soothing, refreshing rush of cool mint flavor. It will definitely tingle your taste buds.
After that, you will enjoy an exhale of more intense menthol flavor that will rise up captivating your vape buds. USA Vape Lab's Crisp Menthol flavor is the perfect option for any vaper seeking for a pure menthol delight. It will soothe your vape palate to the fullest. This exceptionally delicious menthol flavor comes with invigorating cool mint combined with additional cold menthol for a refreshing vaping experience. You will absolutely love this flavor.
The Crisp Menthol e-liquid is phenomenal in every aspect and can be combined with your other favorite e-juices to bring in an additional touch of coolness. This vape will tantalize your taste buds. If you really like the refreshing and invigorating cool menthol taste, then the Crisp Menthol by USA Vape Lab is a perfect flavor for you.
The refreshing vaping experience is something you deserve after you vape this ejuice. It will give you a menthol blast on your taste buds along with an ultra refreshing storm of super cool mint flavor. This flavored vape juice will be your new go-to menthol flavor as soon as you taste.
If you are thinking to try out this vape juice, you should look no further than Ejuice Store. As a premier ejuice retailer, we bring you an extensive selection of vape flavors and accessories to choose from. For more information, please visit our website at
https://www.ejuicestore.com/
.