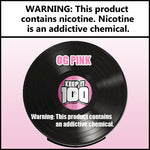 Looking for a vape juice that gives you a strawberry taffy flavor? If yes, then the OG Pink Vape Juice by Keep It 100 100ml gives you the best flavor as possible. It tastes sweet, juicy and delicious while giving a smooth, highly satisfying vape that you love vaping again and again without tiring the vape taste buds.
The OG Pink vape juice is an exceptionally authentic vape delight will leave your lip smacking from the very first puff. Every puff brings you the sweet, satisfactory essence of strawberry taffy candy flavor and leaves you with delightful vaping experience that you'll love enjoying.
SO, when you look for a rich candy flavored delight, you just grab your mod and take a few puff of this OG Pink vape juice by Keep It 100 100ml. This wonderfully flavorful eliquid is filled with tasteful flavors on offer. It gives you the ultimate taste of pink square candies that you've kept in your memories from your childhood.
Each and every aspect of this flavor leaves you fully relaxing and all you have to do is to vape this flavor and enjoy your day to the fullest. With this Keep It 100 flavor, you can relive this experience any time in a vapor form. You will enjoy tasting the burst of sweetness and tanginess of creamy berry flavor as soon as you take your first draw.
This Keep It 100 100ml vape juice has the infusion of sweet strawberries and creamy candied taffy which will dance on your taste buds and soak in to create exactly same taffy flavor that you know and love from the childhood days.
This delicious pink candy flavor gives you an intensifying experience when you exhale and leaves you with mouthwatering experience that continues lingering. Every puff allows you enjoy fresh warm salt water taffy chews and you'll relive this experience again and again.
Available in a 100mL chubby gorilla bottle, this ejuice allows you discover delicious taste and a 70/30 ratio by balancing both flavor and vapor. You can choose from 0mg, 3mg, and 6mg nicotine strengths best suiting your preferences.
If you've enjoyed the delicious taste of pink taffy chews during your childhood, you'll be amazed to enjoy that same taste. The delicious flavor can give you an opportunity to enjoy every moment while vaping this new vape favorite.
Every vaping enthusiast simply loves this classic taffy candy flavor and keeps enjoying this ejuice over and over. If you're thinking to enjoy that famous candy, you should always go for the OG Pink vape juice by Keep It 100 100ml available for sale at Ejuice Store. With this ejuice flavor, you'll never run out of your favorite flavor.