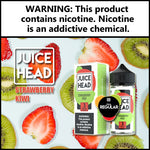 E-juice tend to be divided into a few groups, including dessert, fruit and some typical flavours such as mint or tobacco. People who really don't like the minty or tobacco flavours will usually find the fruit alternatives very interesting. Popular ones are often berry-flavoured, such as blackcurrant and cherries, but the one most vapers like is strawberry.
In this post, we will talk about some of top 5 strawberry flavoured e-juices available on the market.
OG Pink Vape Juice by Keep It 100 100ml:
This vape juice is a treat yourself to a burst of strawberry candy flavor with Pink Burst. Reminiscent of your favorite pink square candies, OG Pink Vape Juice by Keep It 100 100ml is the ultimate vape liquid to get yourself spoiled while enjoying an out-of-the-world vaping experience. Get this e-liquid in 0mg, 3mg, or 6mg as per your nicotine strength preference.
Strawberry Watermelon by Candy King eJuice:
If you are looking for a combination of watermelon and strawberry in your vape juice, Strawberry Watermelon by Candy King eJuice can be your go-to e-juice. You really can't go worth with it.
Strawberry PomBy Naked 100 Menthol E-Liquids:
Strawberry Pomvape juice 60ml in the Naked 100 Menthol collection is certain to cool you down while exciting your taste buds. By blending together cool mint and sweet and tasty fruits Strawberry Pom E-Juice hits all the right notes needed to be a perfect strawberry flavoured vape liquid. While inhaling, that strong flavour of kiwi and strawberry will rejuvenate your taste buds. On the exhale, menthol soaks the taste buds, as sweet pomegranate rounds this incredible flavour.
Watermelon Strawberry by Zonk! 100ml:
One puff of this vape juice and you will be amazed. You will enjoy a blast of sweet strawberry & juicy watermelon flavours created employing top-notch ingredients. This vape juice is tailor-made for you if you are a big fan of bubblegumvape liquids. Get this vape juice in 0mg, 3mg, 6mg, and 12mg nicotine strength.
Strawberry Kiwi by Juice Head E-Liquid:
Vapers who are seeking a clean, lean flavour that'll instantly rejuvenate their palate without being excessively sweet or too strong will find Strawberry Kiwi by Juice Head E-Liquid useful. This e-juice has a triflecta of flavours that truly work together well. The flavour profile include a combination of kiwi, strawberries, and a little amount of cream. The result is a strawberry e-juice of your dreams.