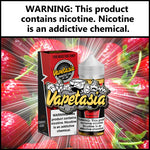 Strawberry and whipped cream flavors are the best tasting vape juice products on the market today. Who can resist the fruit flavor that is naturally sweet and satisfying with every hit you take?
Strawberry has always been the most popular flavored ejuice since its inception. There are so many strawberry flavored ejuice that tops the list every year. Whether it's Strawberry Pom by Naked 100 or Strawberry Ice Disposable Pod by Pachamama, they have taken the industry by storm over the last few years. Naked makes some great vape juice, and of course, so does Pachamama.
If you love the amazing flavor of strawberry and whipped cream, take a look at some of the great flavors below! In our list of strawberry flavors, we also have Keep It 100, Vapetasia, Air Factory, and more.
Strawberry Pom by Naked 100 Menthol E-liquid
Strawberry Pom is by far one of the best products that Naked 100 has ever put out. It is built on a strong flavor of strawberry, with the sweetness of pomegranates and tartness of kiwi. Upon exhaling you will get a cool refreshing sensation that comes from menthol. And those who are not real fond of menthol, this is a mild menthol. The eliquid is very fruity and has a very strong strawberry flavor.
This ejuice is a great mix between strawberries and blue raspberries. If you have not tried a flavor from Keep It 100, you should. OG Blue has a strong strawberry and raspberry flavor mixed. This ejuice is a truly fruity, sweet flavor. This vape juice is definitely worth giving a try!
Strawberry Watermelon by Candy King eJuice
If there's one thing that Candy King is famous for, it's taking their strawberry watermelon flavored eJuice, popularly known as Strawberry Watermelon by Candy King. It is a take on strawberry watermelon bubblegum and watermelon is definitely a great flavor to pair with strawberry. And you cannot go wrong with it. The vape juice is a hit with anyone who likes a strong sweet vape.
Strawberry by Naked 100 Cream E-Liquid
If you are ready to try an out-of-the-world flavor, Strawberry by Naked 100 Cream eJuice is just that. This vape juice contains the blending of strawberries and the best cream base that any vaper could ever ask for. It is an exceptional vape juice with a truly exceptional flavor. The vape juice is a great hit taking to its smoothness and creamy structure.
Strawberry Killer Kustard by Vapetasia eJuice
This vape juice is simply amazing. If you like strawberries and are fond of custard vapes, then you are going to love this vape juice. Both strawberries and custard are a perfect pairing and their taste just stands out. You will love its packaging as well. It definitely goes well with the flavor.
To shop for more interesting ejuice flavors, visit ejuicestore.com.