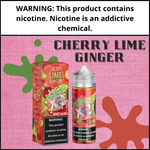 Are you trying something new when it comes to vaping? Why don't you make a switch to Noms X2 vape juice! Noms X2 brings you an exclusive collection of incredibly crafted vape juices made by using some of the industry-best finest ingredients. Coming under the Nomenon E-Liquids brand, it's manufactured by Lotus Vaping Technologies – one of the most recognized names in the vaping industry. 
As a reliable vape manufacturer, it has developed a series of delectable flavor profiles inspired by nostalgic profiles and classic delights. If you want to take your vaping experience to a whole new level, you should look no further than Cherry Lime Ginger by Noms X2. 
If you are intending to get a fruity and spicy vapetastic experience, the Cherry Lime Ginger vape juice will electrify your vape taste buds like no other. This ejuice is one of the most imaginative flavors available boasting a trifecta of delicious tastes with an exotic twist. 
Cherry Lime Ginger by Noms X2 is an incredibly crafted vape juice presenting you with the most satisfying experience that you've come across ever. This vape juice has a symphony of flavors – combined to create a remarkable concoction. You can enjoy vaping this flavor profile all day long as it gives you just the right amount of cherries, limes and ginger flavor. 
This nuanced, complex, natural tasting and highly flavorful vape juice will get you in a state of complete ecstasy as it takes over your senses and soothes your vape thirst the best way possible. It will give a refreshing experience to your vape palate and intrigue your taste buds simultaneously. In addition, you will enjoy the amazing balance of sweetness, tartness, tanginess and spiciness. 
Cherry Lime Ginger by Noms X2 is a deliciously flavorful vape juice made by using a perfect blend of flavors to make sure that you get the most satisfying vaping experience to cherish forever. Take this opportunity to taste the cherries, limes and ginger flavor which will work like your favorite go-to vape juice blend. 
If you're looking for an all-day vape experience, you should turn to this mouthwatering concoction. Every time you inhale will get the sharpness and zestiness of freshly squeezed limes that will wake you up amidst islands instantly. Nothing can match the ripest, plumpest and juiciest cherries. If you want a more dynamic and invigorating experience, the gingers will give the perfect euphoric exhale like no other. 
This Nomenon Noms X2 vape juice arrives in a huge bottle and comes with a more blissful fog blend of 70/30 VG/PG. It makes an ideal alternative for cloud chasers and traditional vaping enthusiasts who want something euphoric to experience while hitting the disposables. 
Fruit and spice flavors have been wrapped together to create this amazing ejuice for your ultimate vaping pleasure. This remarkably crafted vape juice blend offers you a chance to enjoy a trio of flavors to entice your taste buds. With a perfect mix of cherries, limes and ginger, Cherry Lime Ginger by Noms X2 is a one-of-its-kind vape that you should never give a miss. 
When looking to shop for Cherry Lime Ginger by Noms X2, you should look no further than Ejuice Store. For more information, please visit our website at https://www.ejuicestore.com/.