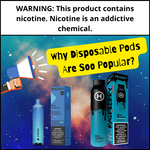 Disposable pods have become quite popular in past few years among the vaping community. And seeing its popularity, many manufacturers have come up with a range of flavorsome disposable pods. One of the top manufacturers include Humble.
Now that we have talked about disposable pods and their popularity, let us find out what make these devices gain such popularity below.
Disposable Pods are Single-Use Devices
These devices do not require filling, cleaning or any sort of maintenance! Just use once, take the pleasure in, repeat until it gets exhausted and then throw it and get a new one. Isn't that simple?
More Satisfaction in a Single Puff
Most of the disposable pods feature nicotine salts which offer more satisfaction in a single puff as compared to freebase nicotine. Moreover, the throat hit isn't as harsh as the traditional nicotine, which makes it a long lasting product as the user does not require to inhale frequently from the device. Disposable pods are available in various fruity flavors that include mango, peach, watermelon, mint and many more.
Keeping the increasing demand for disposable pods among people, today you can discover customized products that make vaping experience more satisfying and pleasant.
Cost-Efficient Vaping Experience
Everyone looks for high-quality products while spending less money. And you will be happily surprised to know that disposable pods are cheaper as compared to traditional tobacco and hence you get a cost-efficient vaping experience with these devices. As the disposable pods are single-use products, these are less expensive than that of the refillable vaping products. Although when you consider its long-term usage, you may find it an expensive affair. But if you just want to experience vaping once in a while, then disposable pods are a good investment. Also, if you are unsure about how much nicotine you need to consume then you should avoid wasting money on one-time vaporizer kit! Instead you must opt for disposable pods as you will be able to know your nicotine consumption level.
Ideal for Beginners
If you are completely new to vaping, then disposable pods can be an easier and better option. Because you need not have to deal with complicated setups with disposable pods like other vaping devices. Simply unbox it, vape and once used throw it away.
Moreover, disposable pods are easily accessible as you can find these at any online vape store.
We at E Juice Store being a reputable online vape store offer disposable pods by top manufacturers that include the flavors by Humble. The Humble line up we offer include Peach Pleasure Disposable Pod (3000 Puffs) by Humble, Blue Slushee Disposable Pod (3000 Puffs) by Humble, Fruit Punch Disposable Pod (3000 Puffs) by Humble, Donkey Kahn Disposable Pod (3000 Puffs) by Humble and many more. We also carry other manufacturers like Cali Bars, HQD V2, Pachamama Disposable and many more.
You can browse our website to find out the disposable pod of your choice easily! Hurry up you may avail our SALE offers!