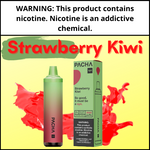 Pachamama Salts specializes in delivering a remarkable selection of the finest quality salt nicotine-based vape juice flavors. All of them are brilliantly crafted to create all-day vapes that have the ability to become the highlight of your day. Its lineup includes different expertly formulated flavors ranging from fruit to tobacco to menthol and dessert blends. It's the main reason why vapers from all over the world continue to rely on Pachamama Salts for premium vape juice. 
Pachamama Salts gives you the mouthwatering experience that you'll never find. It combines the flavors of your favorite fruits, tobaccos, menthols and desserts and turns them into creating a salt nicotine vape juice. The flavors are something you'll love taking a puff all day long. Pachamama Salts provide succulent flavors that with every puff you enjoy you'll feel like your first. 
The vape juice brand always takes different flavors to a whole new level with the delightfully flavored vape juices that they have crafted. Every bottle is filled with 30mL of premium salt nicotine vape juice featuring a complex formula of flavors to provide extraordinary experiences. 
Pachamama Salts is a delicious collection that comes under the umbrella of Pachamama E-Liquids. This vape juice brand creates many flavorful offerings available from the original lineup from Pachamama and comes with quality salt nicotine content to deliver an extremely smooth experience while using this vape pod system. 
The Pachamama E-Liquids brands were made and manufactured by Charlie's Chalk Dust. It's a pioneering company responsible for creating a comprehensive range of well-known names in the vapor products like Black and White Label, Mr Meringue, Camp Fire, and Pachamama. Its parent company Charlie's Holdings continues to be the main base for vapers everywhere. 
No matter what Pachamama Salts will be your next go-to vape brand; no matter whether you want to vape sugary sweet flavor or fresh fruits. This brand has everything on offer to appeal to your taste buds. This premier vape brand will rock you off your feet with its delicious flavor range and how smooth every vape juice tastes. You'll definitely love the Pachamama Salts flavors with every puff you take from their amazing selection of flavors. 
When choosing the Pachamama Salts flavors, why don't you opt for Strawberry Kiwi Disposable Pod by Pachamama Salts! It has the fresh, sun-ripened strawberry flavor with a surge of kiwi flavor for a perfect vaping experience. You're going to have a taste that you've never experienced before. The Pachamama Salts team combines the award-winning flavors with cutting-edge technology to produce a highly satisfactory experience that will make you vape again and again. 
If you are thinking of vape Strawberry Kiwi disposable pod flavor, you should consider shopping it from Ejuice Store – a trustworthy vape store providing an exclusive selection of vape juice brands to choose from. For more information about our Pachamama Salts flavors, please visit our website at 
https://www.ejuicestore.com/
 and you'll find your favorite for sure.