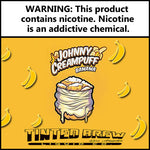 Do you love visiting a bakery? Want to enjoy the aroma of baked good? If yes, it will keep you salivating prior to digging into the feast. Baking is considered as one of the oldest methods that humans have practiced for cooking purposes.
With the advancement in technology, humans are baking sophisticated recipes. If you've a soft corner for baked goods, you'll definitely love vaping the e-liquids giving you a baking like taste. For those baking goods lovers, Johnny Creampuff as an offshoot from Tinted Brew provides you the baking treat of different flavors.
This vaping manufacturer is dedicated to creating light, creamy custard inspired e-liquids to choose from for your ultimate vaping experiences. You will find a great array of flavors ranging from banana, vanilla to blueberry. This means, Johnny Creampuff is the premier vape brand for all vapers who love the authentic taste of desserts.
While some vaping enthusiasts like a vape juice company providing a variety of bases, Johnny Creampuff is no such company. They are passionate about providing top-notch dessert inspired e-liquid flavors that come with a heavy dose of authentic cream baked into every recipe.
Not every vaper has a sweet tooth; you'll take advantage of truly remarkable taste of genuine custard flavor. Every flavored vape juice from Johnny Creampuff is crafted carefully and take the ephemeral custard essence. If you want to try out any flavor, come take a bite of banana by Jonny Creampuff 100ml!
While vaping this flavor, you'll feel like having sweet and decadent banana vanilla cream puff. Johnny Creampuff is perfectly crafted this flavor to give a solid kick to your sweet tooth. Obviously the Italian bakery has nothing to do on this tasty cream puff; but you can enjoy the stuffing of banana and vanilla cream filling.
Banana by Johnny Creampuff 120ml is the ultimate confectionary dream of every baker which combines the smooth creamy vanilla filling jam packed into an oven fresh Italian creampuff pastry. This flavor is a go-to flavor for any go-to dessert lover looking for a sweet tooth flavor. This creampuff is crafted beautifully and leaves your mouth watering every time you vape.
This creampuff pastry is filled with banana preserves and vanilla cream. This is an enticing blend of real dessert and fresh fruit taste along with a unique profile that tastes sweet and delicious. It's made for those who love premium standard banana flavor by Johnny Creampuff. This dessert flavored vape juice is perfect for all cream flavor fans. The vape juice tastes like a light puff pastry along with a full bodied rich cream filling.
If you want to shop for Banana by Johnny Creampuff 120ml, you should look no further than Ejuice Store. You will have to choose from different levels of nicotine i.e. 0mg, 3mg, and 6mg for your all-day vape. What are you waiting for? Enjoy vaping this creampuff delight to the fullest.