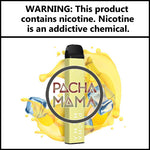 Despite the vape juices large market, manufacturers continue to fight for customers all around the globe.
This has led to the production of better quality and better tasting vape juices to ensure that its vapers love them. There are premium quality vape juices and disposable vape pods that deliver great taste and are an exceptional rewarding alternative to cigarettes.
Disposable pods are a great choice for inexperienced vapers and people who do not want to carry around heavy vape kits. Going on a night out and having your pocket filled with a phone, keys, ejuices, and vape kit can be frustrating. But with disposable pods, this isn't the case. They are convenient, small, stealthy, and can last the whole night.
The disposable pod is quickly taking the vaping world by storm  Thanks to its user-friendly design, delicious flavors, portability. At EJuice Store, we offer a wide array of disposable pods that can make your vaping life easier without having you sacrifice satisfaction.
Our Banana Ice Disposable Pod by Pachamama is the most popular one featuring sweet and ripe bananas, frosted to perfection. The all-in-one disposable pod is a great solution for those seeking a smoke-free life.
Also, if you are looking for a closed-end pod system that is easy and convenient to use with ultra delicious flavors, our Naked 100 pod system is the right choice. The device comes with four pre-filled pods with flavors from the tasty Naked 100 ejuice collection - American Patriots, Brain Freeze, Amazing Mango, and Lava Flow. The device comes with a 4-stage LED light indicator for instant battery life feedback.
Do not miss on this too!
HQD Cuvie V2 Disposable Vape Device from EJuice Store is the best vape pod on the market. It includes 3 individual vape devices. The Cuvie V2 by HQD comes in a durable design. Its portability makes it easy to carry and use. It has a super-rich e-liquid flavor. Choose the flavor that you love the most.
The HQD Cuvie V2 Mango Ice Disposable Pod is a package of deliciousness! The device is greatly built with master craft precision. It offers a large e-juice capacity and has delectable flavors combined with high quality salt nicotine in every disposable. Why not experience this Mango Ice for yourself?!
At EJuice Store, we have a wide variety of flavored disposable pods to choose from. Find out your favorite flavor and grab a disposable pod today. We also have great exciting deals on our new starter kits, e-liquids, and mesh tanks that you won't find anywhere else!