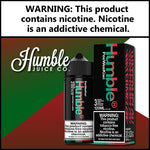 Have you recently switched to vaping and are looking for the best flavors, comfortable throat hits, and massive vape clouds? But having a smooth vape experience in the early days might be a struggle for you. It all depends on the type of vape device used, temperature and airflow settings, as well as things like wattage control.
That being said, vaping is particularly favored today as it offers convenience and reliability. Interestingly, these are the very reasons why many people today are switching to vapng.
The Pebbles Vape Juice by Glas Basix Series 60ml brings to all vapers a sophisticated dessert blend of fruity cereal, delicate French macarons, and rich sweet cream. They are sure to come back for more. Vapers usually urge for a nice throat hit, and the throat hit is something that manages to keep vapers away from smoking. However, people cannot handle harsh throat hits for very long.
Having said that, there should be the right amalgamation between the smoothness and throat hit. People will only stick to vaping when they learn to fine-tune the vaping setup that delivers a balanced throat hit along with soothing flavors.
Let's explore the ways how to make the vape smoother.
How to make your vape juice smoother?
You might have experienced a smoother throat hit with VG ejuices. VG tends to produce the vapor that is smoother to inhale. PG is responsible for the irritation and harsh hits. Having said that, buy a high VG ejuice to make it smoother.
How to make sure your vape juice is hitting smoother?
Your vape would stay smoother if you have high VG in it. However, a high wattage could possibly be the reason if you are experiencing harsh throat hits that you hate. To fix this fire your coil at a lower wattage.
Check your nicotine level
The higher nicotine level is another reason for an unpleasant throat hit. Most of the top brands offer 0mg, 3mg, 6mg, 12mg, 18mg, and 24mg nicotine in vape juices. Higher the nicotine harsher the throat hit. People who want to enjoy harsh throat hits can increase the level of nicotine content in their vape juices.
It is advisable to choose the VG level that matches your nicotine level. A higher nicotine level will require higher VG to deliver balanced throat hits. In any case, the vape setup should be in a low profile f you want a smoother vaping experience.
An ingredient mix of vape juice is very important to achieve a smoother vaping experience. Whether you are buying Pebbles by Glas Basix Series 60ml or Pee Wee Kiwi by Humble Juice Co 120ml, it is always advisable to check the ingredients and the percentage ratio of the VG, PG, and nicotine present.
Learning how to make vape juice smoother is crucial for a smoother vape. Equally, the vape setup should match the ejuice's ability to deliver a smoother vape. 
If you are looking to buy your favorite ejuice at an unbeatable price range, visit ejuicestore.com. We have vape juices in a wide range of brands, sizes, and flavors as well.