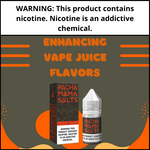 What makes a vaper crave more for vaping is the different vape flavors. And there are vapers who are interested in the clouds. Thanks to the availability of multiple vape flavors, vapers enjoy vaping to the fullest. Exotic vape flavors like Fuji Vape Juice by Pachamama Salts 30ml fascinate vapers of all kinds be they newbie vapers or seasoned vapers.
And we at E Juice Store have brought some tips that will help you enhance the vape flavors to a great extent. Take a look:
Do check the temperature and wattage
The effect of temperature on vape flavors is known to every vaper. Depending on the temperature settings the vape juice may lose or gain its taste. So while buying a vape we recommend you to make a good research on its favorable temperature settings. The wattage and temperature you vape are crucial for making vaping enjoyable. Also, make sure to ensure that your vape device is flexible and can adapt to all types of temperature ranges in favor of your preferred vape juice flavor.
Regulation of the Airflow
Abundant airflow in a vape device only sets a perfect stage for mass cloud formation. On the other hand, it affects the flavor in a negative manner. For enhancing the vape juice flavor you need to regulate the flow of air into your vape device. Flavor prospers in a state where warmth and density are present. When buying a vape juice, you need to consider airflow and ensure that it is adjustable so that it makes it easier for you to regulate the required temperature settings. The likes of the Fuji Vape Juice by Pachamama Salts 30ml are new to most vapers and may require a few experimentation sessions before drawing any conclusions.
Proper Storage of Vape Juice
Most vape juice flavors remain in their best version when stored properly according to the instructions given by the manufacturers. One of the most important tip is to avoid exposure of your vape juice to direct sunlight or well-lit areas. Vape juices retain their flavor and essence the best in cool and dry places due to their chemical composition. Here is a super tip that we would like to share with you is the longer you store your vape juices away from sunlight and air, the flavors become more interesting and exciting.
Look for Quality Vape Material
Buying good-quality vape material is one of the most challenging tasks for most vapers as they are usually unsure about what to consider. With us, at E Juice Store you will get the most genuine and highest quality vape material and products at the best price. So beware of the fake vape materials available in the market.
Happy shopping with us!