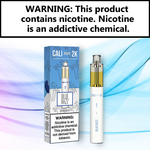 There's no denying that vaporizers are getting high admiration day by day. They offer a safer and healthier alternative to conventional dab rigs & smoking. Though there're several kinds of vaporizers available at online vape shops today, disposable vape pods are more preferred due to their innumerable benefits. Now without wasting any more time, let's get into the real deal.
Disposable pods are more convenient:
The best thing about a disposable pod is the convenience it provide. In comparison to other pods, they boast incredible features in the form of battery life. You don't need to be worried about charging them as they avail with long battery life. Besides this, they're also quite portable like anybody can put them in their handbags and make use of them without any complexities. Because of their small size, it's pretty easy to carry them. Also disposable pods are pretty low maintenance and you don't have to wash or clean them often. The fascinating fact is that people who make use non-disposable vaporizers also make use of disposable when they're on the go. Once you get your vape pen vacant, you can dispose them easily & opt for a replacement.
Easy to use:
Another positive thing about a disposable vape pen is that it's quite easy to use. It comes with a simple design & you don't need to put a great deal of effort when using them. Though many say that vaporizers aren't that effective, but that isn't true. Regardless of being made for temporary use, they'll provide you incredible experience each time you make use of them.
Pocket-friendly:
Disposable vape pods are your best bet if you're someone who is looking for a better vaping experience but have budget concern. Regardless of their innumerable benefits, you can purchase them without breaking your bank. Unlike other vaping tools, you don't require any additional hardware to use them. You can make use of them instantly after buying, makes them an excellent vaping tool to depend on.
Odourless:
This is also an excellent reason why disposable vape pods are safer and better than smoking. Since disposable vape pen doesn't produce any odour they can be easily used without disturbing other people around you. Also, it will keep your clothes and hands from getting stinking.
Check out
Blue Razz Disposable Pod
(2000 Puffs) Cali Bars 2K if you are looking for a concoction of blueberries, raspberries, and blackberries blended together into one masterpiece. Place your order through ejuicestore.com and enjoy great savings.