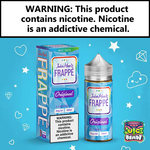 Your vaping device is not going to do any good if you do not have e-juice to top off the tank. With EJuiceStore's wide array of ejuices by brands and flavors, there is no reason to ever run out of your favorite e-juice oil again. We have thousands of flavors - whether it's the sour-sweet Unicorn Frappé vape juice by Juice Man or fruity flavored Dew Berry vape juice by Hi-Drip, from the most trusted e-juice companies. It does not matter what Nic potency, flavor, or VG/PG ratio you are looking for, we have got you covered.
PICKING THE BEST E-JUICE FLAVORS
What vape juice you use matters, and at EJuice Store, our goal is to help you find the perfect e-juice store. E-juice consists of several different ingredients. The base is a blend of vegetable glycerin (VG) and propylene glycol (PG). the final ingredient is nicotine, in the form of either nicotine salt or freebase nicotine. The simple vape formula has a lot of room for creativity.
EJUICE FLAVORS
Even a vaper with extensive knowledge can get a bit intimidated by the sheer number of flavors to choose from. But with EJuiceStore, you can search e-juices by the flavor profile and find exactly what you are looking for. Are you looking for traditional tobacco e-juice, fresh fruit, decadent dessert, or minty menthol? We have all of them and more, categorized for your convenience.
EJUICE NICOTINE LEVELS
Most vape pen flavors and ejuices are available without nicotine. If there is nicotine in the e-juice, it will be freebase nicotine unless the bottle is labeled as nicotine salts, salt nic, or nic salt. When purchasing a vape juice at EJuiceStore, you will be prompted to select a nicotine strength and both of these measurement units are visible.
The amount of vape juice you need in your vape juice depends on several factors. How often you vape, or how much you smoke plays a role. The type of device you use also plays big of a role. If you did not smoke, you probably want an ejuice between 0 and 0.6% nicotine, and maybe 1.2% if you are a very heavy smoker.
E-JUICE VG/PG RATIOS
Selecting a vape juice is not just a matter of individual flavor preferences and nicotine strength. The PG/VG ratio will have a big impact on your vaping experience and will determine how well your vaping device can handle the e-juice you buy. Understanding PG/VG ratios will greatly enhance your vaping experience.
70% VG E-JUICE
This is one of the most popular VG/PG ratios.
It is very balanced.
Its sweetness is perfect for fruit and dessert flavors.
It provides a smooth but minor throat hit.
It gives heavy cloud production.
75% PG E-JUICE
It's perfect for cartomizers.
It has a great throat hit.
It makes an easier transition to vaping for heavy smokers.
Its crystal clear vapors are free from lingering VG and sweetness.
It delivers a very authentic experience.
50/50% PG/VG
It will give a notable throat hit.
It adds authenticity for heavy smokers.
Common nic salt ratio.
It will give wispier clouds.
VG is naturally sweet and increasing the PG percentage will result in a cleaner, sharper flavor.
Still confused between which one to choose - Unicorn Frappé vape juice by Juice Man or
Tortoise Blood by Shijin Vapor
or Crisp Menthol by Naked? If you cannot figure out what vape juice you want, call our customer service representatives today!