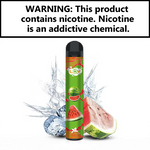 Disposable e-cigarettes are the easiest way to introduce yourself to vaping. After the federal ban on flavoured vape pods occurred, disposable e-cigarettes have turned out to be the next best alternative in 2021 for those who are looking for ultimate convenience.
Disposable vapes are much like cigarettes but without the tar, ash and smoke that usually come when smoking cigarettes. There're no replaceable hardware, buttons, rechargeable batteries, or complex menus to navigate. Since they are draw activated, you simply need to remove the device from the package and start puffing. And simply discard them in the trash when the batteries dies.
Here we have listed the top 3 disposable e-cigarette after testing & reviewing innumerable products. Since several non-branded vapes are available in C-stores and gas stations, you can rest easy knowing that these brands & devices are made from reputed forms with constructive track records. Just pick the one that feature the nicotine potency you are searching for and flavours you are more curious in giving a try.
Lush Ice Disposable Pod (1500 Puffs) by LOY XL:
Give this disposable e-cig a try if you are looking for watermelon flavour and splash of mixed melon flavour vape pod complemented by a fascinating menthol finish. This is the world's 1st disposable vape pen that gives a simple yet luxurious vaping experience. This small, compact disposable pod come with a 5ml capacity tank and a nicotine potency of five percent nicotine. Each vape pen contains nearly 1500 puffs and avail with a complete charges battery so one can start vaping instantly without the worry of charging the device.
RELX Nano:
The RELX Nano is a disposable pod vape with a solid hit & super simple user experience. The Nano comes in 4 flavours from tobaccos to drinks to fruits. The nicotine salt percentage is 3 percent or five percent and avails in 1.2 mL prefilled pods. The RELX Nano is ultra-lightweight with a heavyweight punch.
Shade:
The Shade is a disposable vape that appears more like a refillable pod vape. Unlike the stick designs that have twin-ends, the Shade has vapers in mind with a mouthpiece that also assures you will never unintentionally hit the incorrect end. The Shade holds 1.7 mL of five percent nic salt &vapes well for a disposable.
Visit
ejuicestore.com
now to buy from a huge collection of disposable vape pens from well-known brands and reputable manufacturers.