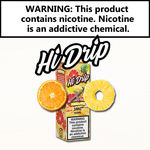 Premium is a word that has been used a lot – especially when it comes to vape juice. And it isn't even a particular kind of vape juice. Everything from candy to tobacco to dessert vape juice, the term premium can be attributed to all. But what does the label mean, and why does it cost more? Not all premium vape liquids are created equally or even truly deserving the title.
Making a premium vape juice needs much more than simply the recipes. From the production to the testing – everything has to play a role in making an e-juice premium.
If you are in the hunt of genuine premium e-liquid, listed here are the top 3vape juice brands based on comprehensive testing:
Iseeberry by Berryfornia 60ml:
Available in Menthol, Boysenberry, Strawberry, and Exotic Fruits flavour Iseeberry by Berryfornia will surely excite & awaken the taste buds. The vape liquid consists of plump fruits that are ripened beneath the warm California sun with an added dose of menthol. You can buy this premium vape juice here at ejuicestore.com with nicotine strength of 0mg, 3mg and 6mg.
Dew Berry (Honeydew Strawberry) by Hi-Drip 100ml:
This is yet another premium e-juice brand readily available here at ejuicestore.com. While savouring this vape juice you will surely sink your teeth into a tantalizingly juicy candy chew. Bursting with luscious honey flavour & rounded out by smooth notes of strawberry, this e-juice will send you over the moon. You can avail this vape juice in flavour like Honeydew, Strawberry, and Candy. This vape juice is readily available in 0mg, 3mg, and 6mg nicotine potency with a VG/PG ratio 70/30.
Island Orange (Blood Orange Pineapple) by Hi-Drip 100ml:
If you are looking for a sensationally candy vape, then do give Island Orange (Blood Orange Pineapple) by Hi-Drip a try. Take a trip to a fruity tropical paradise any time of the day with this premium vape juice available at ejuicestor.com. Witness the flavour of powerfully delicious blood orange & juicy pineapple flavours packed into one perfect candy chew. Buy this e juice in Blood Orange, Pineapple, or Candy flavour as per your wish. You can easily avail this e-liquid in nicotine potency of 0mg, 3mg and 6mg respectively.
Ejuicestore.com is your one stop shop for premium Online Vape Juice at a discounted price. We would love to serve with premium e juice from top brands and well-known manufacturers across the globe.