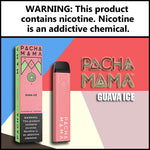 Vaping is a thriving industry with all the incredible equipment available. Those of you who're into vaping must be totally engrossed by the latest vape devices and the new flavours of vape juices readily available. Also you must be pondering what a prefilled pod is & what a prefilled cartridge is. Well, there're 2 kinds of vaporizers, one is the Vaporizer Pod & second is Vaporizer pen. Here in this post we will dig deep into prefilled pods & cartridges.
Prefilled pod systems:
Pod systems let you vape employing pre-filled pods, which hold vape juice and are discarded after use. The duration that a pre-filled lasts is generally identical to the time it takes to smoke a pack of cigarettes.
A vape pod is a tiny piece of vape hardware prepared from plastic. A vape pod encompasses a coil filled with vape liquid. They're an excellent way to kick start vaping as they're simple and convenient to use and don't need previous vaping knowledge.
Say bye-bye to cleaning tanks:
Prefilled vape pods are a wonderful alternative for those who don't want to clean tanks frequently. Cleaning tank can be rather time taking. Many vapers with busy schedules prefer pods as they don't have to be filled again. Also, there's the danger of unintentionally leaking a refill, and this does not just occur to newbies. Those who've into vaping for a long time have to be pretty careful while refiling tanks as well. To that end, if you are short of time, you can invest on a disposable vape pod and start blowing out intense plumes of smoke on the go.
Prefilled vape cartridges:
With pre-filled vape cartridges, you don't need to come across the annoyance of loading them. All you need to do is just press the button to start using a pre-filled cartridge. 
Another great thing about pre-filled vape cartridges is that you don't need to be worried of charging the vape cartridge recurrently. Charging is not a concern since batteries aren't needed to be charged.
A balance need to be sustained between dosages. With a prefilled vape cartridge this issue can be sorted out as the device lets a complete dosage check. Thus, you know the actual dosage of the concentrate in a cartridge.
Feel free to give
Guava Ice Disposable Pod by Pachamama
a try, if you are looking for a disposable pod that features perfectly chilled, delicious, and juicy guava harvested from the tropical evergreens. It is truly a wonderful option for those who want to live a smoke-free life.