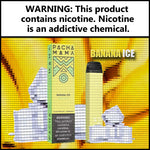 When you are new to the vaping scene, you may discover yourself overwhelmed with such an extensive range of options & choices. With options ranging from simple and easy to use vapes to complicated cigs, your device selection is critical to assure the best possible vaping adventure.
Disposable e-cigarettes:
Simple to use, all-in-one disposable vape devices are ready to vape with everything you require to commence vaping. Disposable vapes are designed with internal battery and pre-filled with vape juice, offering an exact number of puffs per device.
Disposable vape pens are ideal for new vapers who wish to give vaping a try without the worry of replacing parts and pieces in a larger pod system. Also, they are great to have even if you're a seasoned vaper and have your own rechargeable device. As soon as you've reached the appraised puff count, the leftover battery change and vape juice remaining will be low/empty, and at this point is finished and discardable. Disposable vape pens are portable, and can be bought with diverse flavours, puff counts, and nicotine potencies to fit every kind of vaper.
Order Banana Ice Disposable Pod (1200 Puffs) by Pachamama from Ejuice Store if you are looking for a disposable pod that features sweet and ripe banana, frosted to perfection.
Rechargeable e-cigs:
Rechargeable e-cigs are different from disposable vape pods in several ways: with a rechargeable battery & refillable pods, these are made to be reused over time. Rechargeable vape pods are especially suitable for using a few vape liquid flavours in multiple pods at a time.  Designed to be refilled, the majority of rechargeable devices make use of interchangeable or removable cartomizers. These replaceable pieces lets you check out new flavours and nicotine strengths with absolute ease. Vapers who relish extended customization with their device may favour rechargeable over disposable devices.
If you're still not certain which kind of e-cig is appropriate for you and you're just beginning as a new vaper, rest assured that it's hard to go wrong with any of the devices. Both devices are simple to use, each offering their own distinctive forms of contentment.
For the lowest initial expensiture and the simplest way to observe if vaping fits your lifestyle, we suggest beginning with a disposable e-cigarette. However, some vapers are likely to be drawn towards rechargeable e-cigs for their reusuability, customization, and low cost in the long run. Though you'll firstly pay more for a starter kit, in the long run the outlay of replacement cartridges and vape juices are much affordable than recurrently purchasing disposable vape pods.