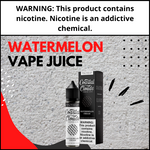 One of the most refreshing and delicious summer fruits is watermelon. Moreover this fruit keeps you hydrated during the hottest of summers. If you want to experience the deliciousness of watermelon in your vaping as well and looking for some watermelon flavored vape juices that will satisfy your craving for watermelon, then we at Ejuice Store, your ultimate online vape store have brought you a list of top-rated watermelon vape juice by leading manufacturers. Check out the list below and choose the one that entices you the most, then place your order with us to grab sensational offers.
Watermelon Vape Juice by Humble Juice Co. 60ml
When it comes to fruity flavors, Humble Juice Co. brings you some of the most humble flavors that not only satisfy your taste buds but also your heart and soul. Watermelon Vape Juice by Humble Juice Co. 60ml offers you a different take on Watermelon. Take delight in the smooth, creamy, juicy watermelon with the first hit itself. So fall in love with watermelon and vaping all over again!
Watermelon by Pop Clouds 60ml
Watermelon by Pop Clouds is a succulent watermelon vape flavor that explodes with the goodness of fruity candy. The watermelon flavor not only refreshes the palate but also satisfies the sweet tooth. This vape juice coats yummy watermelon flavor in candy sugar, offering you a taste that satisfies on every level. On the inhale, the crispness of watermelon flavor flows over the taste buds. The slightly tangy notes will give a wakeup call to your tongue. On the exhale, a sugary candy finish offers your sweet tooth exactly what it craves.
Iced Juicy Watermelon by SaltBae50 30ml
Iced Juicy Watermelon by SaltBae50 offers the taste of a fresh watermelon broken out to extract the perfectly invigorating, pink juices that make a refreshing drink for the summer. When the vapor begins to approach your throat it gets guided by smooth salt nicotine and hints of mint and ice to offer you with a breathtaking whoosh of cool, menthol-infused air to fill your lungs. On the exhale all the worries of the day will be released, through the revitalizing properties of watermelon and menthol in Salt Bae on Ice.
Watermelon Ice by Skwezed 100ml
Skwezed Watermelon Ice vape juice is a perfect blend of juicy ripe watermelon slices and chilled organic taste which bring you the pure summer delight!  Watermelon Ice by Skwezed takes a big wedge of sweet, juicy watermelon and adds in loads of refreshing menthol and a dash of freshness that makes it so much more appealing and exciting.
Watermelon Cream (The Abyss) by Coastal Clouds 60ml
Watermelon Cream by Coastal Clouds formerly known as The Abyss is one of the top fruit-based dessert vape juices sold in the vape market. It is a light combination of crispy watermelon and smooth-sweet cream refreshing your taste buds to the core while providing scrumptious clouds of creamy fruit flavor.  
So now the decision is all yours! Which watermelon vape juice seems delicious to you? Pick one or two and place your order with us!