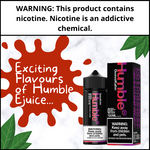 It's time to take your ejuice love to another level with us, the very leading dealer of vape products.
Love ejuices? Ejuice Store is the right place you are at. Why look for any other store to shop for ejuices when you have our store to shop from? You will be getting a broad range of vape products here, which will amaze you for sure. 
Welcome to the fast-growing online vape retailer. Buy the best quality vape products at the lowest price. Ejuice Store is committed to selling only first-class products. So, it's time to enjoy the perfect vape product at a perfect rate. 
Ejuice Store is a very popular online store for vape products including e liquids. So, you can now try out your favorite vape products and flavors easily. We are right here to serve you the most perfect ejuice. You will surely fall for our vape products, they are made to win your heart. For a very long time, we have been serving vape products and with years of selling, we and our products keep developing. Ejuice Store meets all needs of customers very well. From wide product collection to delivery of products, everything is made absolutely perfect to satisfy customers.
Ejuice Store has only the best brands of products. Browse our product list and you will get to find the top and very well-known brands. You can buy any of your favorite brands of vape products. We very well understand the needs and requirements of our customers. There are many regular customers of our store who always choose us for vape products. 
You can reach out to customer service from Monday to Saturday, we would be happy to help you with anything regarding our products or your orders. You can also give feedback on your experience with the Ejuice Store, we would be happy to have your feedback. 
Humble Ejuice by Ejuice Store: Hey the very famous ejuice brand is here with a very vast range of ejuices. Humble Ejuice is a must to try out. Haven't tried ejuice from the Humble Ejuice brand yet? Then have something new and unique this time with Ejuice Store. 
Ejuice from the Humble Ejuice brand is winning the hearts of our customers. They are of amazing quality, made from fresh and quality ingredients. We always come up with exciting flavors and so even today we are here with Strawberry, Blue Slushee, Guava Kahn, Fruit Punch, Humble Crumble, Kiwi Berry Citrus, Watermelon, etc. These were some of the ejuices from the Humble brand.
So, if you have been looking for more details about our vape products, feel free to call.
Ejuice Store is all set to deliver your favorite flavor of ejuice.