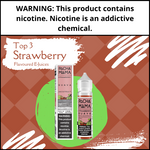 The majority of vapers are a big fan of fruit-flavoured vape juice, but out of all the different assortments of fruit, strawberry vape juice flavours seems to be the best. Whether it is a pure strawberry-flavoured vape juice, or a blend of strawberries, cream and other fruits, there is something unique about the sweer taste of strawberries that truly gets your palate going. 
There is no scarcity of strawberry-flavoured e-juices here at ejuicestore.com. That is because it's simply too tough to counter the taste of ripe, juicy strawberries with their tangy, sweet and gentle tart flavour notes. If you're crazy about the juicy taste of strawberries, listed below are the top 3 strawberry e-juices that'll make your taste buds & palate singing. 
Strawberry Gummy (Fruit Finale) by Fresh Pressed Salts:
Strawberry Gummy Vape Juice by Fresh Pressed Salts is a perfect blend of ripe pears, juicy apples, and amazon forest strawberry to put a full stop to your search for the best strawberry-flavoured vape. Available in 4 primary flavours (Strawberry, Apple, Pear, and Mixed Fruit) Strawberry Gummy (Fruit Finale) by Fresh Pressed Salts deserves a place in your e-juice list. You can buy it in 0mg, 3mg, 6mg, 12mg, and 18mg nicotine power as per your likings.
Fuji Apple Strawberry Nectarine by Pachamama:
As specific as it sounds, Fuji Apple Strawberry Nectarine by Pachamama is a genuinely perfect blend of delectably fruity vape nutrition. Enjoy pure and authentic fruity taste without the bells & whistles. Relish satisfying fruit nectar with each hit. When you inhale this vape juice, its wonderfully crisp apple flavour will make your taste buds dance. Then, an uplifting explode of strawberry flavour stimulates your taste buds with tangy & sweet notes. When you breathe out, deliciously juicy nectarine flavour satiates your thirst beyond imagination. 
Strawberry Guava Jackfruit by Pachamama:
If you are seeking a natural tropical fruit flavour that encompasses sweet strawberry, juicy guava and jack fruit, then Strawberry Guava Jackfruit by Pachamama can be your go-to strawberry-flavoured ejuice. Each inhale & exhale is unbelievably revitalizing and incredibly flavourful. As you breath in this vape juice, your thirst will be satiated immediately credits to a deliciously juicy & ripe strawberry flavour. When you breath out, a tropical blend of tangy papaya and sweet jack fruit will take your palates on a voyage to bliss. 
So, what strawberry-flavoured e-juice suits your taste palate the most? Feel free to order them from ejuicestore.com and save big!