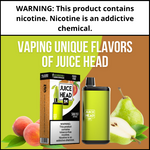 Peach Pear disposable pod by Juice Head is a masterful flavored vape juice. It will turn into one of your favorites within no time. This disposable pod flavor gives you an incredible experience by bringing you the perfect blend of peaches and pears. As a result, you can enjoy vaping the smooth and delectable vaping expertise throughout the day. 
The Peach Pear disposable pod flavor is an exciting and highly delightful flavor profile that you will surely fall in love with. It is a premium flavored vape juice that uses a perfect blend of peaches and pear to ensure you are never left unsatisfied. This delicious vape blend comprises the fruity delights of peaches and pears. In addition, the Juice Head disposable pod flavor is infused with tobacco-free salt nicotine and can enhance your vaping experience. It will help you create the smoothest vape possible that you've ever experienced. 
Juice Head brings in a fantastic selection of premium vape juice available in the vaping market. The vape brand comes with many flavors and uses some of the finest ingredients possible. You can choose freebase, salt nicotine, and tobacco-free regular and nicotine salts. 
Located in Garden Grove, California, Juice Head has a reputation for being one of the most recognized names in the vaping industry. All of its vape juices are manufactured by Streamline Vape Co. It's a manufacturing company dedicated to different hit brands like Khali Vapors, Bam's Cannoli, Premium Tab Salts, etc. 
It's time to reward your vape taste buds with the most flavorsome blend by Juice Head. When you vape this Juice Head Salts disposable pod flavor, you will find it delightful to vape all day. It is a disposable pod flavor sprinkled with the delicious notes of peaches and pears around your mouth. Peach Pear Disposable Pod by Juice Head leaves you with the ultimate fruity experience to linger. It's an exciting vape flavor that you'll call your favorite. 
Offering a perfect blend of vape juice, the Peach Pear disposable pod features savory notes of crispy, crunchy pears and luscious, juicy peaches for a classic all-day vaping experience. The Peach Pear disposable pod offers a succulent combo of juicy pears and peaches with fresh and fruity flavors. 
While vaping this disposable pod flavor, you will find it smooth, subtly, frosty, and juicy. This disposable pod is perfect for vapers looking for sweet and fruit flavors. However, if you are looking for a vibrant fruit flavor with a refreshing and reinvigorating exhale, then Peach Pear Disposable Pod might be your perfect match. 
When buying Peach Pear Disposable Pod by Juice Head, feel free to visit our Ejuice Store website today.