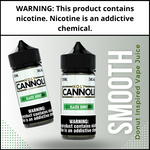 Do you love donuts? Who does not love donuts? The love for these delights have made vape manufacturers craft vape juice flavors inspired by these classy desserts. Donut flavored vape juices have become quite popular in the vaping world. At Ejuice Store, being a leading online vape shop possess an impressive collection of donut inspired vape juice flavors by different vape juice brands. The best part is we sell these amazing flavorful vape juices at affordable prices. If you too are looking for some donut inspired vape juice flavors to include in your vape juice collection, then we have brought you some of our best selling donut flavored vape juices by top manufacturers below:
Glazed Donut Vape Juice by Holy Cannoli 100ml
Holy Cannoli is a renowned vape juice brand that comprises of premium vape juice flavors. The Donut Series by the company brings you a variety of vape juice flavors that is extremely appealing to all donut lovers. Glazed Donut Vape Juice by Holy Cannoli 100ml is a delicious classic flavor with that comprises of a scrumptious dessert vape that is full of creams and custards packed into soft, golden glazed donut. You can take delight in this vape juice flavor in Morning, Noon, as well as Night and you will never want to put this bottle of goodness down.
Apple Cinnamon Donut Milk by The One 100ml
The One Apple Cinnamon from Beard Vape Co. is a delectable combination of fruit, cereal, and pastry into ONE ultra-tasty blend. The One Apple Cinnamon is a cereal mixture of apple and cinnamon which is crafted to satisfy your autumn cravings. The vape juice has the scrumptious, melt in your mouth leaving the flavor of a fresh apple cinnamon doughnut dipped in creamy, sweet milk.
Cereal Trip by Bad Drip is a vape juice that takes the donut and cereal game to another level. Cereal trip mashes a warm glazed donut and covers it with fruity and loopy cereal. The inhale offers you with the flavors of the fruity cereal and warm donut, while exhale keeps it rolling with the sweet frosting.
Autumn Harvest (Apple Cider Donut) by Keep It 100 100ml
Formally known as Apple Cider Donut, Autumn Harvest comprises the delicious taste of a delectable dessert that we all love. Get indulged in the taste of a freshly baked apple cider donut in the cinnamon-sugar coating with Autumn Harvest (Apple Cider Donut) by Keep It 100.
We have many other such donut flavor inspired vape juices in the inventory of our online vape shop. If you want to explore more such flavors with us then browse our website today.