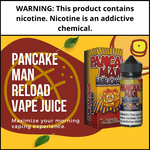 Vape Breakfast Classics creates mouthwatering breakfast flavor ejuice to maximize your morning vaping experience.
Vape Breakfast Classics creates cereal flavored vape juice. The first flavor created was the pancake flavor vape juice, Pancake Man Vape Juice, the second breakfast flavor profile, French Dude Ejuice followed its success shortly thereafter. Vape Breakfast Classics ejuices are all one-of-a-kind and will put you into a relaxed morning breakfast without the calories.
Pancake Man Reload by Vape Breakfast Classics 120ml vape juice is a twist on the classic Pancake Man flavor. Rather than standard pancake flavor, this ejuice is infused with Cookie Butter for an added layer of deliciousness. You will also get a hint of freshly sliced strawberries topped with maple syrup. You have never had breakfast quite like this before!
Combining eccentric and decadent dessert flavors with a classic breakfast favorite, you will come to find that this unique blend is just what you needed to shake things up a bit and add a little extra interest to your life.
PANCAKE MAN RELOAD 120ML BY VAPE BREAKFAST CLASSICS
Whenever you vape this delicious juice, it is going to feel like it is a special occasion. And as you try this ejuice and see the way that it is able to bring taste, texture, and cloud production to the table, you will be a fan who keeps on vaping it In the long run. This vape juice is going to remind many of us of the most important meal of the day that many of us do not have the time to be able to enjoy. They have this talent to come up with really wonderful unique flavors and for that, you are going to end up really enjoying them. Pancake Man Reload takes a tall stack of fluffy, tender pancakes, layers them with cookie butter, and then drizzles some sicky sweet syrup over them all.
Manufacturer:

Vape Breakfast Classics

Available Strength:

6MG & 12MG

PG/VG:

20/80

Size:

100ML

Nicotine Level:

0MG, 3MG, 6MG

Primary Flavors:

Cookie, Buttermilk, Pancake, Maple Syrup

Made In:

USA

100% Authenticity Guaranteed
TOOTY FROOTY PANCAKE MAN VAPE JUICE BY VAPE BREAKFAST CLASSICS 120ML
This vape juice does not render the usual pancake flavor. The ejuice has the same fluffy pancake flavor, but is smothered in fruity candies! With each puff of Tooty Frooty Pancake Man vape juice by Vape Breakfast Classics, your mouth will welcome that original pancake flavor that you tremendously adore. With that fruity candy favor next, your sweet tooth will be taken by a pleasant surprise. On the exhale that maple flavor ties it all back together.
Tooty Frooty Pancake Man by Vape Breakfast Classics 120ml is truly a different take on a breakfast flavor. The fruity candy flavor makes the ejuice backed but still equally balanced as a breakfast flavor.
To place your order for Pancake Man Reload by Vape Breakfast Classics 120ml or other different flavored vape juices, visit ejuicestore.com.