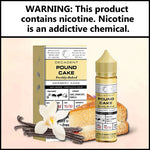 Do you crave for tantalizing dessert flavor? How about buying a vape juice that has the goodness of homemade pound cake? If you want to enjoy the vape filled pastry like bliss, you should take your box mod and load your favorite Pound Cake vape juice by Glas Vapor E-Liquid Basix Series 60ml.
Glas Vapor E-Liquid has been a well-known name in the vaping industry for over a decade. The vaping company continues to deliver a legendary assortment of vaping flavors. All of them have garnered unparalleled popularity, numerous awards and accolades. The Basix collection is particularly sought-after vaping collection as every flavor in the series has been crafted masterfully to ensure pure perfection.
Pound Cake vape juice is the latest in the line and has received enormous response from vaping enthusiasts from all over the world. Your taste buds will be rewarded with the buttery cake heaven and the zesty lemon syrup and smooth vanilla icing will continue pleasing the vape palate. On every inhale, get ready to embrace the pure cakey notes and enjoy the mouth water delight of sharp lemony citrus taste.
When the vapor travels around the back of your throat, the sugar notes start intensifying. Pure creaminess is something you'll enjoy on the exhale. Pound Cake vape juice from Glas Vapor E-Liquid Basix Series is available in a medium size bottle and the 70/30 VG/PG fog base. This vape flavor is something every cloud chaser can love to indulge in.
The Pound Cake is a timeless delight of warm, sweet flavored cake blend with bright notes of fresh lemon zest and fragrant Madagascar vanilla flavor. This uncanny combination won't disappoint you at all; instead leave you craving for more. With the blissful blend of tropical flavors, Glas Basix Pound Cake vape juice will be definitely your ultimate favorite.
It's time to dive into a vaping bottle of Basix Series – Pound Cake by Glas E-Liquid with rich notes of sweetly baked pound cake and vanilla icing drizzled on the top. It's an absolutely best dessert flavor that will give a tantalizing sensation and joyous feeling to your taste buds. This award-winning concoction starts with a warm and fluffy vanilla cake.
When you vape Pound Cake, you'll feel like tasting hot cake out of the oven. This delicious vaping treat is topped with sweet vanilla frosting and a hint of zesty lemon finish. You'll get a unique experience unlike any flavor you've experienced ever. If you like to vape dessert inspired vape juice flavors, you won't get that much better taste than Pound Cake vape juice by Glas E-Liquid Basix Series.
If you are looking to experience a classic bakery delight today, why don't you shop for Pound Cake vape juice by Glas E-Liquid? Please check out all of the available vape flavors and make a right selection for your ultimate vaping experience. You won't regret after vaping for sure!