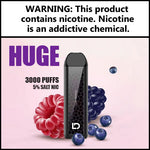 Are you in a forest? Don't have accessibility to electricity, wires or cables for charging your vape device? If yes, then why don't you buy disposable pod system kits! As the name suggests, you can throw once you get done with this device.
These kits are available in so many flavors and different strengths of nicotine. You don't need to stress about changing pods, charging or filling up the vape juices. You just vape your favorite flavor and throw after that.
Out of all disposable pod kits, HUGE Disposable Vape is a premier name in the vaping industry. It's famed for providing one of the biggest as well as most flavorful pod devices. The HUGE disposable vape uses an exceptionally patented innovative mesh coil that helps in improve every flavor.
The HUGE Disposable Vape is a durable and well-built vaping device that provides you with a disposable design. This vape device comes pre-filled, pre-charged and can be simply tossed in the trash when you're done using it for all that it has on offer.
The disposable vape device looks visually appealing and sports a small size as well as ergonomic design. Despite the small size, the vape pod comes with an integrated 1000mAh battery and the capacity of 8mL vape juice by using 5% or 50mg salt nicotine.
The HUGE Disposable Vape flavors are sure to deliver optimal satisfaction from the device appearance and convenience. They perform very well on every use and are available in a huge selection of flavors to choose from. Please take a look at the delicious flavors by HUGE Disposable Vape. Remember that, all of their devices provide up to 3000 puffs per each device.
Buying Lush Berries Disposable Pod (3000 Puffs) by HUGE
The Lush Berries Disposable Pod takes you on a journey of thrilling flavors when you vape a delectable blend of amazing fruity flavors. The HUGE Disposable Vape flavored blend has the delight of tasty watermelons and the right combo of berries.
After vaping, you will get utterly pleasing experience from very beginning to the end. When you buy this pack, you'll receive one piece pre-filled Lush Berries disposable pod from the HUGE Disposable Vape collection.
What are the main specifications of Lush Berries Disposable Pod?
The primary flavors – raspberry, blackberry, and blueberry
Manufacturer – HUGE
Brand – HUGE
Nicotine Level – 5% (50mg)
VG/PG – 50/50
Bottom Line –
Are you looking to buy Lush Berries Disposable Pod by HUGE? This is where Ejuice Store comes in handy. Apart from the Lush Berries flavor, you will find a wide array of flavored blends to choose from. Please check out our available flavors and make a right selection for your disposable pod device.