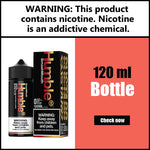 Are you looking to vape a unique blend of fruity delights? If yes, then you should look no further than Smart Mouth Vape Juice by Humble Juice Co. This vape blend comes with hard to resist, sweet combination of strawberries and smooth, rich custard as well as graham crackers. After vaping this ejuice, you'll feel like you've found the love of your life.
You can't go wrong with this classic vaping combination. It's completely complementary and exception. All you need to do is to give in to your vaping cravings and add this delectable vape juice to your vaping collection. Smart Mouth vape juice allows you enjoy the smoothness of vanilla custard along with graham cracker bits and ripened slices of strawberries.
Get ready to take advantage of refreshing experience from the tasty tanginess of ripe and juicy strawberries. When the tanginess dissipates the taste buds, the cinnamon and butter notes of graham crackers go all over the taste buds. After that, the smooth vanilla custard flavor goes over the vape palate. The sublime creaminess of the custard hits the right spot.
Smart Mouth vape juice is an ultimate custard flavor with all of the layers for ultimate vaping experience. With the richness and tanginess of strawberry custard and the sweetness, buttery sensation of graham cracker crust, every hit will complement your dessert cravings to the greater extent.
The smoothness and silky strawberry custard flavor goes all over the tongue. However, the tanginess and slightly tartness of strawberries perfectly balance the richness of custard. When the strawberry flavor brings in sweeter taste, the graham cracker crust flavor goes into the vaping taste buds. Your tongue will feel elated through the creaminess of the custard.
Humble Smash Mouth E-Liquid is a perfect mash up of strawberries, custard, and graham cracker. This vape juice will appeal your sweet tooth the best way as possible and leave you craving for more. The perfect vape blend is warm, smooth, fruity, and rich with unique flavors. The luxurious gourmet premium ejuice will indulge your taste buds for sure. This Smart Mouth vape juice is made from Humble Juice Co, available in a 120ml gorilla squeeze bottle. The VG/PG base of 80/20 allows you take advantage of big and puff vape clouds. The primary flavors i.e. strawberry, custard, and strawberry will appeal your vape taste buds effortlessly. This flavor is available in the nicotine level of 0mg, 3mg, and 6mg.
When it comes to buying
Smash Mouth vape juice
by Humble Juice Co, you should look no further than Ejuice Store. Shop for your favorite ejuice flavor and make it your all day sweet and delectable dessert vape sensation today.