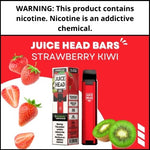 Are you looking for a premium standard vaping device? If yes, you can never go wrong with the Juice Head Bars disposable vapes. The disposable device offers an effortless and highly convenient experience with a compact and portable design. In addition, the disposable device has an integrated battery and enough room for a large 8mL vape juice capacity. 
You can expect around 3,000 puffs per device. You will be able to choose from its fascinating variety of flavors for the ultimate all-day vaping experience. Pick out the one to add to your vape collection. 
Juice Head Bars is a dedicated name in the vaping industry, creating delicious flavors accessible to all its enthusiasts. The Juice Head Bars always develop new products in the form of disposable vapes to provide their customers with a highly flavorful vaping experience. You will find the device convenient, performance-driven, and extraordinarily created flavors. 
Even if the disposable device has a compact design, you will love its pleasing appearance. Apart from its look, the device has an enormous 8mL vape juice capacity, earning upwards of 3000 puffs per device. Moreover, you will find extraordinary flavors within every device, making for one of the worth-trying devices available on the market. 
The Juice Head Bars disposable vape is a fascinating addition to the market as it manages to deliver flavorful tastes in a convenient and easy-to-use disposable device. Whatever flavor you try out from the Juice Head Bars disposable vape collection, you will enjoy its incredible performance, thousands of puffs, and the most flavorsome tastes made by one of the most recognized names in the vaping industry.
If you love the sourness and tanginess in your vape, the Strawberry Kiwi disposable pod by the Juice Head Bars will surely satisfy your taste buds. The verdant taste of kiwi fruit will bring the tropical tanginess along with an energizing zap and refresh your taste buds through savory notes of field-grown strawberries. Every puff gives you succulent and juicy sweetness. 
With the wonderfully crafted blend of tastes, the disposable vape offers you an opportunity to enjoy ruby red strawberries and tropical kiwis. In addition, it will leave you with an all-day vape that will make you come back again and again. 
Strawberry Kiwi Disposable Pod by the Juice Head Bars is a suitable alternative for those looking for an all-time classic flavor blend. With ripe strawberries and refreshing tropical kiwis, this disposable gives you with a lovingly-crafted, beautifully-balanced vaping experience. 
If you want to shop for Strawberry Kiwi Disposable Pod by the Juice Head Bars, you should look no further than Ejuice Store. For more information about our available collection of Juice Head Bars, please visit our website at 
https://www.ejuicestore.com/
.