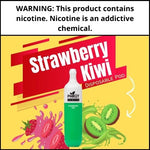 Kiwi lovers, grab this super amazing disposable pod. Like every time, Ejuice Store has bought super amazing disposable pods. Yes, today we are here with Strawberry & Kiwi blended disposable pod. So, strawberry & kiwi lovers without further wait order it and enjoy a unique experience. With every hit, you are going to get the flavors. Phrut Exotix has creatively added the fruits. You will be loving the combination a lot. We guarantee you the highest level of disposable pod enjoyment. Our products are absolutely authentic. It's Ejuice Store, the leading dealer of vape products. If you were in search of quality disposable pods, eliquids, or salt nics then you are at the right store. You will be getting the best products and services. 
Our disposable pod collection is absolutely marvelous. We have a wide variety of flavors for our customers. We have brought interesting unique flavors every time and we continue to do so. We know our customers very well. 
Strawberry Kiwi Disposable Pod: From fresh Strawberries & Kiwis Phrut Exotix has designed a blend that can become your favorite. Want to know more about the product. Take a look at its features - 
It has an 850mAh battery

Includes 5% nicotine

3500 puffs 

8ml juice capacity
This is going to become your favorite disposable pod every time. 
The VG/PG Ratio is 50/50. This disposable pod is manufactured by Savage Enterprises. The primary flavors of this disposable pod are Strawberry & Kiwi. 
Take a look at the exotic flavors available - 
Grape Ice, Strawberry Banana, Pineapple Ice, Honeydew Melon Ice, Guava Pineapple Orange, Peach Mango Watermelon, Blue Razz, Rainbow Ice, and Watermelon Candy Ice.
This Strawberry Kiwi disposable pod is created from freshly collected fruits for which the pod has the freshest experience to offer. 
We have been in this industry for a long time and understand the importance of bringing out only the best products to customers. We have always tried to offer exciting flavors which would have never been tried by our customers. We have regular customers who always choose us to provide them with their eliquids or disposable pods or salt nic. We have been able to keep our promise every time. Our store is trusted by many for which it is growing rapidly. 
For any information regarding our products or service please do not hesitate to give us a call. We will be getting back to you immediately. 
There are some more disposable pods, do take a look at them. 
These were some of our unique flavors. There are more brands and flavors, you would definitely give a try.