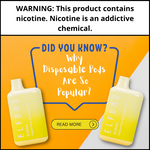 The number of cigarette smokers is declining as many have switched to vaping. Many are changing over to vaping as it helps to quit smoking and avoid the harm of inhaling hazardous chemicals.
Using disposable pods is ideal while changing for those who desire to quit smoking. First, let us see the reasons for the popularity of disposable pods. Before coming to the causes of popularity, it is good to know that those who are trying to change over to vaping prefer to use Pineapple Coconut Ice Disposable Pod. The primary flavors are Menthol, Pineapple, and Coconut. The nicotine level is 5%, and the VG/PG ratio is TBD.
Ideal for new vapers 
When you search for vaping devices, you will notice disposable pods, vape kits, and mods. For beginners, disposable pods are a brilliant option as one needs to open the box and start vaping. 
There are no parts to assemble or join. It is possible to have the pods in pre-filled condition with e-juice. It offers the liberty to try various flavors and nicotine levels until it is possible to find one that best suits your taste and liking.
New vapers also enjoy the ease of use of disposable pods. You need to inhale on the device, wait for the light to turn on, indicating inhalation, and that is all to do. When the device runs out of e-juice, you can replace it with a new one. The new one you purchase may have a different flavor, nicotine level, and VG/PG ratio.
It is also that spending less money on a new vaper can try different flavors.
Avoid withdrawal symptom 
One of the significant challenges smokers' faces is withdrawal symptoms when they try to quit smoking. Withdrawal symptoms can happen within four to six hours, depending on the amount you smoked.
Some people may notice a surge in hunger. Others may find they need to do something to keep their hands busy, and many turn to snacking. Anxiety and mood swings are also common among many.
It is noticed that many again return to smoking as they cannot effectively manage the withdrawal symptoms. The best way to tackle these symptoms is to use disposable pods. It is possible to reduce the nicotine level and eventually quit smoking gradually.  
Affordable than other vaping devices 
You can use a disposable pod once, but it costs less than other vaping devices. So yes, you can buy rechargeable pods like Pineapple Coconut Ice Disposable Pod from us at the Ejuice Store when you are sure about the flavor and nicotine level you desire to have.
Portable and no maintenance
Disposable pods are smaller in size than any other vaping device. Therefore, you can carry that easily and use it conveniently when desired. There is also no requirement for maintenance when one uses a disposable pod.
So, if these reasons entice you to buy 
Pineapple Coconut Ice Disposable Pod
, call or mail us at Ejuice Store.