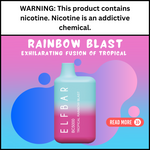 Like most vape enthusiasts, you must be constantly on the lookout for bold, unique flavors in the ever-evolving vaping landscape. The vape delight should transport you to a world of sensory delight. Why don't you consider vaping Tropical Rainbow Blast Disposable Pod (5000 Puffs) by Elf Bar BC5000 that offers an exhilarating blend of wild berries and sweet tropical chewy candy.
A Flavorful Burst in Every Puff
The Elf Bar BC5000 is not just any average disposable pod; instead, it's a flavor expedition. Tropical Rainbow Blast disposable vape combines the succulence of wild berries with the sweetness of chewy tropical candy. This flavor creates an explosion of tastes that will dance on your taste buds. Each puff takes you on a journey through an array of flavors. That makes the disposable pod perfect for those who craving a bold and delectable vaping experience.
Powerful Vaping in a Compact Design
Despite its small size, the Elf Bar BC5000 is designed to offer maximum impact. The compact box-mod design has a dual coil technology ensuring that each draw delivers pure, intense flavors. This disposable vape isn't just limited to flavor; rather it's about offering a powerful and satisfying vaping experience that goes beyond expectations.
Rechargeable Device for Extended Enjoyment
The standout feature of the Elf Bar BC5000 is its rechargeable capacity. The device comes with the convenience of being recharged extends its lifespan and allows you to indulge in your favorite flavors for as long as you want. The rechargeable feature adds a sustainable touch to this disposable pod and makes it a functional choice for vaping enthusiasts.
Unique Features at a Glance
Rechargeable - USB cable not included in the package

Dual Coil Technology - Ensures pure and intense flavors.

13ml Capacity - Ample liquid to keep you vaping.

5% Nicotine Strength - For a satisfying throat hit.

Approximately ~5000 Puffs - For long-lasting enjoyment.
Dive into the Flavor Spectrum of Tropical Rainbow Blast Disposable Pod (5000 Puffs) 
Tropical Rainbow Blast Disposable Pod by Elf Bar BC5000 comes with a tantalizing blend of Mixed Berries, Tropical Fruit, and Candy. The manufacturer, Elf Bar, has crafted this blend to perfection, maintaining a harmonious balance of flavors that keeps you coming back for more.
Final Conclusion –
Do you want to vape unique, bold, and delectable flavors? You should shop for Tropical Rainbow Blast Disposable Pod (5000 Puffs) by Elf Bar BC5000 from Ejuice Store and make it your ideal vaping companion. Featuring a compact design, rechargeable features, and a tropical symphony flavor profile, this disposable pod will redefine your vaping experience for sure. So, it's time to indulge in the taste of the tropics, enjoy puff after puff, and embark on a flavorful vaping journey with Elf Bar BC5000.