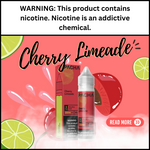 In the vaping world, it's challenging to find an e-liquid that satisfies and delights the senses. Pachamama presents Cherry Limeade, a 60ml bottle of pure ejuice bliss that will take your taste buds on an extraordinary journey.
Vaping a Symphony of Flavors
Cherry Limeade by Pachamama 60ml is crafted to perfection as it brings together the luscious essence of ripe cherries and the zesty lime. As a result, you will be rewarded with a delightful treat for your senses that transcends the ordinary. From the first inhale to the lingering aftertaste, Cherry Limeade allows you to enjoy a symphony of fruity sweetness and tangy citrus while offering you an exhilarating blend that makes you come back for more.
The Unique Allure of Ripe Cherries
Just imagine the succulence of ripe cherries, every note bursting with natural sweetness. Pachamama has brought the authentic essence of these delectable fruits by infusing the ejuice with a rich, authentic cherry flavor that starts dancing on your palate. The vape juice gives you a taste that reflects the peak of cherry season while creating a vaping experience that's both vibrant and indulgent.
Zesty Citrus Delight
But the magic of Cherry Limeade doesn't end there. Pachamama adds a twist to this classic cherry profile by adding vibrant notes of lime zest. The tangy citrus adds a refreshing touch to the e-liquid that perfectly balances the sweetness of the cherries and creates a harmonious blend of flavors. This feels like a fusion of flavors to enhance your vaping experience, making every puff a burst of invigorating satisfaction.
Craving-Worthy and Irresistible
Cherry Limeade isn't just any ordinary e-liquid; it seems like a craving waiting to happen. The masterful blend of cherry and lime creates a unique flavor profile that tastes unique and universally appealing. Whether you're a fruit enthusiast or looking to explore new dimensions of flavor, Cherry Limeade by Pachamama 60ml will satisfy your cravings time and time again.
Taking Vaping to the Next Level
Pachamama is well-known for its commitment to maintaining quality and innovation in the vape industry, and Cherry Limeade is no exception. The 60ml bottle stands as a testament to the brand's dedication to offering vaping enthusiasts with exceptional options that go beyond the ordinary. With this exhilarating fusion, Pachamama will take your vaping experience to the next level, while allowing you to embark on a journey of flavor that's nothing short of extraordinary.
Final Conclusion –
Are you seeking a vaping adventure that combines the best of ripe cherries and zesty lime? If yes, then you should shop for Cherry Limeade by Pachamama 60ml from the Ejuice Store. This 60ml bottle offers a symphony of flavors and gives you a vaping experience that's both satisfying and crave-worthy. So, embrace the extraordinary flavorful delight of Pachamama, and indulge in the delectable world of Cherry Limeade through Ejuice Store.