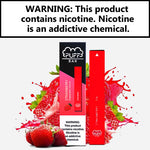 Want a vape device that you can use instantly and efficiently without any hassled process? Then we at Ejuice Store have brought you vape disposable devices. A vape disposable is a small non-rechargeable device that is pre-charged and pre-filled with delectable vape juice flavors. You just need to open the pack and enjoy vaping. Once you are done with vaping, just dispose it off and open another one next time.
Vape disposables make use of high strength salt nicotine that offers a simple yet satisfying way to get into the world of vaping. You can find a disposable vape device mimicking the experience of smoking without much hassle.  What makes vape disposable devices a better alternative is there is no need for a lighter as the device comes activated, hence you can vape anywhere and whenever you want to.
Vape disposables often specify the number of puffs you can enjoy and you will experience drop of flavor and clouds when its lifespan comes to an end. What makes the disposable vape devices a great vape alternative is that you do not need to worry about how much charge is left or when to refill it! In short, we can say that these vape devices are perfect vaping alternatives for the people who are always on the go.
These vape disposable devices have a shelf life of up to 12 months and either use as a first beginner vape device that is extremely convenient and portable everyday vape or as a backup whenever you need to vape.
At Ejuice Store we carry a wide selection of vape disposable devices from top brands that include HQD Cuvie, Pachamama Disposable, Naked 100 Pod System, JUUL, SKOL, Puff Bar, Cali Bars, X Bar, Bolt and many more. All these devices are ideal for instant and on the go vape experience. Moreover, if you are on the verge of quitting smoking, and looking for easy and efficient alternatives then vape disposable devices are your best bet.
So browse our website today to find a great selection of vape disposable devices with unique flavors!