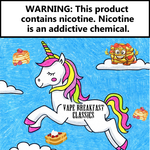 It is a fact that most of people around the world begin their day by hitting the snooze button and sleeping back. And many of us spend more than five minutes laying in bed every morning before getting out of it fully. If you too have the same issue and find it difficult to get up early in the morning, then you must give try to a myriad of different breakfast vape flavors that can make your mornings a lot easier and give it an energetic start.
When you begin your day with a delicious vape juice flavor that tastes like one of your favorite breakfast foods, it will make you wake up every morning with a hell lot of zeal and enthusiasm to have a productive day. So are you ready to begin your breakfast special vaping experience with us, E Juice Store? Without further ado let's take a look at some of our top-rated and best-flavored breakfast special vape juice options that will make you enjoy when your alarm clock goes off.
French Dude Vape Juice by Vape Breakfast Classics
Love to have French toast cereal as your breakfast? Then a French Dude vape juice by Vape Breakfast Classics is an amazing vape juice option for you. It tastes just like French toast. In fact the French Dude vape juice takes the flavor of the French toast to a whole new level. French Dude vape juice by Vape Breakfast Classic tastes like a big plate of French toast topped with butter and syrup making your sweet tooth satisfied to the core with its first hit and makes you to rethink your approach towards the morning time. So take delight in a flawlessly fried cinnamon French toast, soaked with powdered sugar, plump blueberries, and a dash of maple syrup.
Pancake Man Vape Juice by Vape Breakfast Classics
Pancake Man Vape Juice by Vape Breakfast Classics is yet another delicious affair that is designed to taste just like a plate of mouth-watering pancakes. It is quite obvious that you won't be thrilled with the idea of getting up early in the morning and making pancakes on your own by turning the stove on! But how about trying out a vape juice that will offer you the delicious taste of the pancake without making much effort. And trust us, you will fall in love with the taste of it on its first hit itself. It tastes like vaping a warm stack of pancakes, evenly coated with butter, topped with strawberries and whipped cream, drizzled in maple syrup. These are best for Saturday and Sunday mornings when you can treat yourself to a special meal or you can enjoy this amazing flavor in the middle of the week.
Unicorn Cakes Vape Juice by Vape Breakfast Classics
Unicorn Cakes vape juice by Vape Breakfast Classics is the newest rendition of vape juice flavor that is a stack of blueberry dessert pancake drenched in silky strawberry milk that produces a one of kind vape flavor experience, unlike anything you've ever come across. If you are seeking an adventurous start of your morning then Unicorn Cakes vape juice is the ultimate choice for you to try.
We also possess many other breakfast special vape juice flavors in our inventory for you! So visit our website today and browse our collection to find out the flavor you love the most. Our SALE is on!