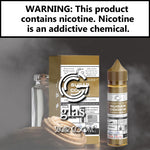 If you are looking for timeless vape juice flavors online, then we at Ejuice Store welcome you to the world of Glas Vapor. The Glas Vapor Basix Series is one of the most authentic and classy flavor series that will make you fall in love with it after the first hit itself.
The World of Glas Vapor
Glas Vapor founded by Sean Glas is a vape juice range with passionately delightful flavor profiles. The manufacturer creates finest products possible and deploys craftsmanship and technology which is never seen before. Initially the company took years to research with the expertise of artisans paying attention to the finest details and created their first device. After the success of the devices, the brand took the same drive for excellence and crafted an e liquid that is worthy of every penny.
Glas Vapor designed the first custom-molded bottle of the industry and developed flavors that come up with exceptional boldness and nuance. Glas vape juice flavors possess great elegance with magnificent diligence on the finish that are crafted through attentive intricacy and categorical perfection.
The Basix Series - Timeless Flavors to Try
With the goal to create more accessible vape juice flavors to the masses, Glas Vapor team created the flavorsome BSX series. The manufacturer crafted the timeless BSX Series flavors that meet the everyday flavor profiles for vapers of all kind. The manufacturer has kept every aspect of vape juice production from custom bottles to the complexity of flavor creation offering the most delectable flavor profiles that you will instantly fall in love with every puff. Moreover, the Sean Glas signature on every bottle subtly reminds you that with Glas Vapor you can tryst that you are receiving best quality ingredients and finest flavors.
At Ejuice Store we carry a wide range of Glas Vapor BSX series vape juice flavors that include Blue Razz, Pound Cake, Caribbean Punch and many more.