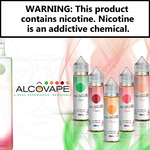 Are you looking to buy e-juice? It's significant to decide the right base for your ejuice. Both VG and PG have their own share of benefits and drawbacks and work differently in your vaping device. VG & PG result in different tastes, throat hit and offer great amount of vapor.
For unique delectable vaping experience, you should definitely try out Apple by Alcovape 60ml. But prior to making a purchase, let's take a look at PG and VG are and know the difference to make your vaping much more satisfying.
Propylene Glycol (PG) –
Generally, propylene glycol is colorless and odorless fluid and offers light and smooth feel. It's used as a base for e-juice and tends to deliver a feeling in thorat that most vapers feel like same of a cigarettes.
PG carries flavors really well; though in some circumstances a sweetner is added as PG doesn't have its own flavor. If a vape juice has a high PG base, it'll deliver a very low amount of vapor on the exhale. This makes a little easier to stealth with this product.
PG ejuices carry flavors very well – so if you particularly like any intense flavor while vaping, you should definitely choose PG.
Vegetable Glycerin (VG) –
Vegetable Glycerin is derived from vegetable oil and is much thicker than PG. It's plant based and most vegetarians and vegans prefer it as VG fits their liefstyle in the best way as possible. However, VG tastes a bit sweet on its own.
Vape juice flavors are sweet and are enhanced better with VG. If you really enjoy sweet flavors, Apple by Alcovape 60ml is going to give you outstanding results. VG base produces lot more exhaled flavor than the PG juice and is a right alternative to those who really like bright and thick vapor clouds.
The Final Takeaway –
Most vape juices like Apple by Alcovape 60ml contain a combination of both VG and PG. Now that, you know what's inside your juice, how it works and the results it offers. If you're into lots of vapor and much smoother taste and feel, you should definitely buy Apple by Alcovape 60ml from Ejuice Store.
This delicious combination allows you take advantage of delicacies that you'd really like. It's a chilled green apple liqueur martini and has primary flavors of menthol, martini and apple. The vape juice has VG/PG ratio of 70/30.
When you try out Apple by Alcovape 60ml, you won't be able to put it down for sure. We are readily available to help you enjoy the delectable flavor that works right for you.