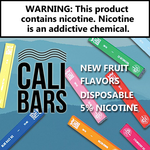 Are you constantly looking for newest vape products on online vape shops and checking out reviews? Then you must be aware of disposable pods, which are becoming more and more popular among vapers of all kind. Disposable devices are more powerful than that of traditional cigs with much better flavors and impressive battery life. Moreover, its compact size makes it a portable option. But what a disposable pod actually is! Let us find out below:
What are disposable pod devices?
Disposable pod devices unlike the refillable pod mods have pre-recharged batteries which cannot be recharged further and refilled. These pod devices need to be disposed of as soon as the juice or the battery runs out, hence the name disposable pod devices. Disposable pods are differently designed than the standard e-cigs. These devices are thicker and shaped like a personal vaporizer.
How these disposable pod devices work?
In general, a disposable pod device comes in a sealed bag or box with pre-filled e liquid reservoir and a pre-recharged built-in battery. These devices have a primary purpose to offer similar experience that of a standard e-cig vaporizer. The device gets automatically activated when the user inhales from the mouthpiece and generates nicotine infused vapor. You will get the same number of puffs as you get from a pack of cigarettes. Moreover, these disposable devices are versatile!
Why these devices are getting popular day by day?
The primary reason behind the popularity of the disposable vape pods include convenience and ease of use. Moreover, these are budget-friendly and do not require any experience to use, hence whether you are new to vaping or a seasoned vaper, you can experience the best of vaping with these disposable pods. Also, their compact size fits any pocket size and are extremely stealthy.
We at E Juice Store realize the benefits of using disposable pods and hence recommend all our customers especially the first-time vapers to use disposable pods instead of traditional e-cigs. And hence we carry a wide selection of disposable pods from top manufacturers like Cali Bars. You can find all the delicious flavors from the house of Cali Bars with us.
Why Cali Bars?
Disposable pods by Cali Bars are small and compact devices that come with a 1.3ml capacity tank and a nicotine strength of 5%, 2% nicotine in each flavor. Every device from the manufacturer contains around 350 puffs approx. and comes with a fully charged battery which allows you beging vaping immediately! Moreover, Cali Bars is the first disposable vape system with a nicotine step down option.
What are the different flavors from Cali Bars?
If you want to check out more such options visit our website now!