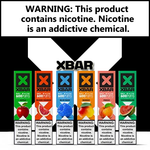 Are you an adult vaper looking for simple yet flavorsome way to get your nicotine? Then we at E Juice Store would recommend you disposable vape pods. Being in the vaping industry for years now, we understand how disposable pods make the nicotine experience hassle-free and enjoyable. Disposable pods are discrete, easy to use as well as affordable ways to have a flavorful experience. These are auto-draw devices that do not require charging or refilling. Can you get anything easier and better than that to make your vape experience incredible?
Previously the disposable vape pods were viewed as transitional devices for smokers who looked for dipping into the vaping pool. Eventually, the willingness of vapers to get convenient pre-filled device and advancement in wicking and e juice flavors have made the disposable pods a practical alternative to vape pods. And looking into the increased demand for disposable pods, several manufacturers have manufactured disposable pods of different and unique flavors.
We carry a wide range of disposable pods from top manufacturers in our inventory. However, one of the most loved and demanded disposable pods are from X BAR. So we have brought you the best-selling flavors from the house of X BAR below. Have a look and choose the one you find delectable:
Blue Razz Disposable Pod by X BAR
Blue Razz Disposable Pod by X BAR is a delicious combination of blueberries, raspberries, and blackberries creating an incredible flavor that will make your taste buds go crazy over it. X BAR is known for offering such unique flavors to vapers.
Blood Orange Disposable Pod by X BAR
Blood Orange Disposable Pod by X BAR offers an exotic and exclusive fruits to your palate. The exceptional trifecta of citrus blood oranges and tangerine are just the perfect combination for satisfying your taste bud cravings.
Watermelon Disposable Pod by X BAR
Watermelon Disposable Pod by X BAR is a luscious flavor that explodes with goodness of fruity candy. Of all of the juicy fruit flavors out there, nothing refreshes the palate and satisfies the sweet tooth quite like glorious watermelon. The yummy watermelon flavor when coated in candy sugar, you get a taste that satisfies on every level.
Mango Disposable Pod by X BAR
Mango Disposable Pod by X BAR is an ideal merger of a dense yet dripping silky and sweet juicy mango that will make you fall in love with the flavor again and again.
Peach Disposable Pod by X BAR
Peach Disposable Pod by X BAR is yet another juicy delight from the manufacturer that amalgamates peach and splashes of ripe tropical undertones with an exhilarating peachy candy ring finish.
Apple Disposable Pod by X BAR
Apple Disposable Pod by X BAR is a flavorsome e juice that is a dream flavor of every apple lover.  It is a great apple vape that will keep you fresh and ripe! If you like a freshly picked apple taste then this e juice flavor is specifically designed for you. The inhale is like the bite of a ripe sweet red apple. The exhale adds that special green apple sweetness and turns it up a notch with the finish.
Wish to explore more such flavors? Visit our website today!