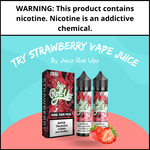 Want to try some classic vape flavors that bring back some of the good times you've spent? In this case, why don't you give a try the Strawberry Vape Juice by Juice Roll Upz 120ml! This vape juice comes with the delight of refreshing strawberries with a sugary candy coating. It balances the tanginess and sweetness and provides exhilarating flavorful notes that will keep your taste buds salivating with optimal satisfaction.
You must know that the candy treat is loved all around the world and that's why Juice Roll Upz brings in the strawberry flavor profile to its juice collection. If you simply love the fruit flavored roll-ups, you will love vaping this candy nectar. The Strawberry vape juice by Juice Roll Upz 120ml is a high VG e-liquid with clean hitting consistent flavor. This strawberry fruit delight delivers the sweetness of strawberry candy flavor. It will keep you vaping for sure until the entire 120ml is gone.
On the inhale of Juice Roll Upz Strawberry vape juice, your taste buds will experience the hit of handpicked ripe strawberries instantly. You will enjoy the tanginess and a powerful strawberry candy flavor. On the exhale, the flavor gives a sugary taste that will tingle your tongue. This strawberry flavored vape juice is one of the best high VG options from all the premium brands available and you'll be surprised when you notice the quality vaping experience as soon as you take your first puff.
When you inhale, the tanginess of strawberries appeals to the taste buds and the intense juiciness spreads around the vape palate. The sweetness builds before you taste the dazzling candy finish on the exhale. The Strawberry Vape Juice by Juice Roll Upz is available in a 120ml bottle. The 80/20 VG/PG base will give you the huge and dense vapor that both traditional vaping enthusiasts and cloud chasers will enjoy vaping for hours long.
So, why are you waiting for? If you're still looking for a traditional afternoon nostalgic sensation, you should try the Strawberry Vape Juice by Juice Roll Upz 120ml for your all-day vape. This is also an Ejuice Store favorite. Hurry up and grab our vape deals today when it's still in stock. You'll be delighted you did so at the end; especially when you want to satisfy your vape cravings. Please take a look at our available selection of Juice Roll Upz flavors at 
https://www.ejuicestore.com/
.