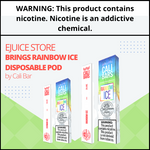 Want to try something different this time? Ejuice Store understood your needs, we know what you want. That's why we are favorite of vape lovers. Our store sells 100% genuine products. Ejuice Store is a premium online vape retailer. You will be finding awesome products to try. The best part of our store is high-class products at unbeatable prices. We know our customers well, and we keep bringing new exciting products every time so that our customers get to try the best flavors every time, they want to try something new or different. Ejuice Store vows you the excellent disposable pod. 
Rainbow Ice Disposable Pod by Cali Bars: Hey, so how about an icy disposable pod? Yes, a sweet icy disposable pod is waiting to get delivered to you. It is created to win hearts and yes it does. 
You will find this disposable pod very interesting as it has vibrant rainbow sorbet flavor along with sweet fruit candies touches, it is scattered throughout. To make the rainbow sorbet flavor more authentic a bit of menthol is even added, which makes the flavor more unique. What can be more interesting than a blend like this? It is perfect if you want to try something very different. 
Cali Bars is a vape disposable system that has the option of nicotine step down. Yes, you read it right. This disposable pod system comes with a 1.3ml capacity tank. The nicotine strength available is about 5% and 2% in each category. It is a must to try the system. Furthermore, every device contains around 350 puffs. The best part is that the device comes with a fully charged battery so you can vape without worrying about the need to charge the device. You must be excited to try this product, right? Even, we are excited to deliver you such an amazing disposable pod system. 
The primary flavors contained are Citrus, Menthol, and Sherbet Cone. The VG/PG ratio is 50/50 and nicotine levels are 5% (50mg) and 2%(20mg). This disposable pod is manufactured by California Grown E-liquids and is from the Cali Bars brand. This disposable pod pack contains 1pc pre-filled Rainbow Ice disposable pod. 
We guarantee to offer you the most unique flavors. Ejuice Store is the best store to choose for any vape product buying. We have a wide collection of ejuices, disposable pods, and salt nics. You will be having enough options to try. 
Our customer support team is available from Monday to Saturday. You can reach out for any queries or information. Do not hesitate to say hi. 
We have been in this industry for years and are experienced to deliver you the best class of service, Add our exciting products to your cart and place an order with just a click.