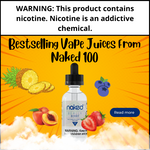 Based in Huntington Beach, California, Naked 100's mission is to offer an excellent substitute to ignitable cigarettes for adults that comes under legal smoking age. With attentive and outstanding customer service, continuous innovation, and ingenuities to help fight underage use through education & mindfulness, Naked 100 targets to surpass public expectation of what a vape firm can do. Being an ever-developing firm in a quickly changing industry, the main objective of Naked 100 is to emphasize their customers' requirements and concerns by offering a consistently gratifying and superior experience.
Listed below are some of the best selling vape juices from Naked 100:
Peach (Peachy Peach) by Naked 100 60ml:
This is yet another peach flavoured e-juice from Naked 100 which is complemented by fruit sweet tart treat. On the inhale enjoy a tropical mix of ripe mango & fresh sour peach and on the exhale savour a hint of wild apricot. With such a playfully juice of delectable & sugared fruit blend, it is no wonder that Peach (Peachy Peach) by Naked 100 is simply irresistible to vapers!
This flavour from naked gives a run off to that tropical island on your screens background within two puffs. This delightful tropical flavour amalgamation of fresh strawberries, with pineapples, and coconut uplift the senses and tumble the taste buds.
With a tangy, sweet, and juicy golden Pineapple balanced by the smooth and citrusy duo of sweet Tangerines and ripe Orange, Maui Sun by Naked 100 offers one of the juiciest tropical blends you have ever tried. Wonderfully balanced with big flavour & remarkable smoothness, this vape juice will be your new all year vape.
Really Berry by Naked 100 60ml:
Really Berry isn't your regular berry flavour, giving a burst of sweet, freshly picked Blueberries teeming with flavour combined with the rich density of Blackberries, compassed with a Lemon sugarsprinkle. Sweet with a refined hint of tartness, each inhale of Really Berry by Naked 100 will keep your pallets asking for more. Order this vape liquid in 0mg, 3mg, 6mg, and 12mg as per your nicotine intake preference.
Enjoy great savings on all these above-mentioned vape juices by Naked 100! Feel free to place your order at
ejuicestore.com
. We would love to serve you with a greater number of vape juices from top brands like Naked 100.