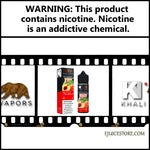 If you are likely to visit any vape store or vape website, you will see a wide selection of colorful pods, cartridges, and bottles filled with flavored e-liquid or vape juice.
Vape juice comes in a variety of flavors, including candy, bubblegum and strawberry, fruits, and more. And the throat hit is the feeling you get at the back of your throat from inhaling an ejuice. A strong one usually gives a harsh sensational feeling.
At EJuice Store, you will find a wide array of vape juices online. Whether you are fond of Strawberry Kiwi Vape Juice, a die-hard fan of Watermelon Lime Vape Juice, or simply mesmerized with Green Apple Vape Juice, we have it all.
The Strawberry Kiwi Vape Juice by Juice Head Salt is the most popular High-Nic brand in the vaping industry. Who would not love the taste of sweet fresh strawberries paired with divine juicy kiwis? Both flavors are combined together to create a new set of flavors that a vaper is going to love. When you inhale, your vape palate gets enough strawberry sweetness which makes its way down your throat. As soon as you start salivating, the flavored kiwis will bring in more flavors to this profile.
If you're looking for a fruit flavored vape juice that holds a refreshing taste, look no further than Devil's Punchbowl vape juice by Khali Vapors. The ejuice includes two extravagantly luscious fruits- peach and guava making a flavorful, unique fruit punch. This will refresh your senses while giving a natural sugary taste to your taste buds.
If you are new to vaping, a harsh vape hit is a common occurrence. This might be because you still have not sharpened your skills in using your vape juice and device.
Here are the reasons why your vape is hitting harshly and how can you solve the problem.
Top Reasons Why Your Vape Is Hitting Harsh
Too high nicotine content
The content of nicotine differs in different vape juices available on the market. So, it is important to check the displayed strength on the packaging. A stronger nicotine level is known to produce stronger throat hits during vaping.
Wrong VG/PG Ratio
Every vape juice comes with a different mix. The PG in the vape juice is responsible for throat hit while VG gives you the vapor. For gentle throat hit, you could try a vape juice that contains a slightly higher percentage of VG.
Reduced airflow
For a lot of vape devices, you can make adjustments to the airflow. This will help in controlling the amount of vapor produced by the device.
Reduced airflow will produce more concentrated vapor, causing a harsh throat hit.
High wattage
In case your vaping device has variable wattage, set it to high. By setting it up to a higher wattage, you will experience strong hits as more vapor will be produced.
CONCLUSION
In case you are wondering why your vape delivers a harsher hit, the above tips will say it all and make it easier for you to understand.