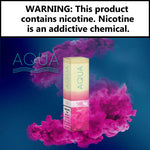 Wishing to enjoy a fruity time with your vape this summer? Unsure about what vape juice to choose? Then we at E Juice Store have brought you some of the incredible vape juice options. We understand that summertime becomes even more interesting with fruity vape juices from the top-rated brands. Whether you want to rejoice with your family and friends at the beach or pool or want to have a BBQ, you can find a wide selection of fruit-flavored vape juices in our inventory.
You might have your favorite fruit vape juice and you may plan to stick to it, but with a myriad of delightful flavors available with us, we would like you to explore more and enjoy vaping to the fullest. So make your summer enjoyable with our delectable vape juice flavors from top manufacturers.
Skwezed
Skwezed vape juice line will make you meet the most relishing squeeze this summer season. Skwezed being one of the top American vape juice manufacturers has designed a flavorful range of fruity vape juices. The manufacturer believes that great vape juices need not have to be expensive rather these should be affordable and of high quality. The Skwezed fruit-based collection brings some of the simple yet incredibly refreshing fruit flavors like Banana Ice Vape Juice by Skwezed 100ml. The other flavors include Green Apple, Mango, Lychee, Grapefruit, and Peach.
Pachamama
The Pachamama salts range combines some of the best fruit flavors with nic salts that offer an intense vaping experience. The fruity delights from the manufacturer include Strawberry Watermelon, Honeydew Melon, Icy Mango, Fuji, Apple Tobacco, and Starfruit Grape. So what are you waiting for try out these awesome flavors?
Naked 100
Naked 100 brings some of the tastiest and artfully blended fruit flavors that are loved by almost every vaper be it a newbie or a seasoned vaper. It is an exhilarating fruity vape juice range that comprises All Melon, Amazing Mango, Green Blast, Hawaiian POG, Lava Flow, Maui Sun, and Really Berry, and more. All these flavors are further blended with a range of fruity flavors. Also, you can explore its menthol range to cool down during hot sunny days.
Aqua Classic
Aqua Classic fruity vape juices are yet another range of amazing fruit flavors you can relish during summer. This range of vape juices will keep you cool and refreshed while enjoying the delicious vaping tastes of strawberry, watermelon, and apple, and with a nic salts base. You can get relieved from the heat with Oasis which is an amalgamation of luscious peaches, succulent papayas, and creamy cantaloupes.
So choose your fruity delight from our collection and make your summer vaping experience incredible. Visit our website today!