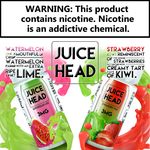 Do you love fruity flavor? If yes, then you must love the fruity flavor selections from Juice Head Freeze. You'll come across a comprehensive range of flavors Watermelon Lime, Blueberry Lemon, Pineapple Grapefruit, Peach Pear, Strawberry Kiwi, etc.
Menthol is a perfect add-on to include a stronger taste to your vaping experience while enjoying an amazing throat hit. Menthol helps in cleansing palette so that your taste buds won't be accustomed to vaping the same vape eliquid.
6 Best Juice Head Freeze Vape Juice by Juice Head Freeze 100ml
Peach Pear Freeze by Juice Head Freeze 100ml
Peach Pear Freeze Vape Juice by Juice Head Freeze 100ml is one of the top-rated vape flavors available today in the entire vaping industry. Take a puff of sweetness and tanginess from juicy peaches, fresh pears along with the explosion of icy menthol. You'll enjoy more vape clouds while vaping this Juice Head Freeze vape flavors.
Blueberry Lemon Freeze by Juice Head Freeze 100ml
This blueberry lemon vape juice by Juice Head Freeze is an intoxicating combination of sweet flavored blueberries and tart lemons complemented with a cool menthol finish. On the inhale, get ready to enjoy sun ripened blueberries whereas on the exhale, you will get a cool lemon and menthol finish.
The lush fragrance of this berry citrus fusion swirls creamy tart hits with tang for quality refreshment. It's sure to make the freshest of vape clouds.
Pineapple Grapefruit Freeze by Juice Head Freeze 100ml
Pineapple Grapefruit Freeze by Juice Head Freeze comes with succulent golden pineapples and a fresh splash of tart grapefruits along with a cool menthol finish. This grapefruit flavored vape juice jumps into your vape taste buds on the inhale.
Your taste buds take a strong hold of tartness and robustness of the grapefruit. On the exhale, you'll get to experience pineapple's sweet side that softens the hold. Never forget about the chilling sensation of menthol flavor. This fruity flavored vape juice is sure to give you a run for your flavor buds.
Strawberry Kiwi Freeze by Juice Head Freeze 100ml
The Strawberry Kiwi Freeze vape juice includes a delightful blend of ripe strawberries and tangy, fresh kiwis along with cool menthol finish giving a refreshing fruity flavored vaping experience. On the inhale, you will taste delicious ripe strawberries whereas enjoy the fresh kiwi fruit and chilled menthol on exhale. This makes an all-day invigorating vape juice that tastes so natural that you'll feel like biting a fresh fruit every puff.
Watermelon Lime Freeze by Juice Head Freeze 100ml
Watermelon Lime Freeze eliquid comes with a succulent blend of menthol with sweet, juicy and ripe watermelons and tangy, fresh lime. The taste of juicy mouthwatering watermelon goes over your vape palette on the inhale which is followed by a cool sensation of fresh limes and menthol on the exhale.
Guava Peach Freeze by Juice Head Freeze 100ml
Guava Peach Freeze Vape Juice is the newest addition to Juice Head Freeze vape juice collection. It comes with a delicious burst of vape flavors that invigorate your taste buds like a tasty smoothie on hot summer. The tropical guava splashes refreshes your taste buds on inhale while the sugary taste takes you a paradise. You'll get to enjoy a fruity peach combination on the exhale for a refreshing medley of flavors.
Bottom Line –
What is your favorite Juice Head Freeze flavor? Take a look at fruity vape juice flavors from Juice Head Freeze available for sale at Ejuice Store. You'll get completely delectable experience for sure. Start shopping for your favorite vape juice today.