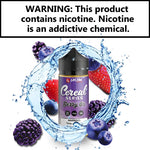 Berries are one of the most liked fruits among fruit lovers. The sweet and tangy amalgamated flavor of berries provides a satisfying feel to taste buds. If you are a vaper who is also a berry lover, then you will be glad to know that there is a wide selection of berry-flavored vape juice options available on the market. And we at Ejuice Store being one of the premier online vape juice dealers carry some of the best berry-flavored vape juice in our inventory from top manufacturers at the best prices. Want to check out the berry flavors we have with us? Then have a look:
Berry Blow Doe Vape Juice by Humble Juice Co
Berry Blow Doe Vape Juice by Humble Juice Co is a delicious fusion of classic flavors that surprises you with its irresistible nostalgic charm. The Berry Blow Doe vape juice offers a vibrant fruit madness that will blast your taste buds back in time. This vape juice will help you recreate those fun and loving childhood days. So get ready for a crazy ride of exceptional tastes that will make your day even more exciting and special.
Berry Burst by Burst
Berry Burst by Burst E-liquid is another delicious blend of juicy berries that will tantalize your tongue while refreshing the palate at the same time. Each berry component in this vape juice has been carefully selected to round out this fruity flavor. The outcome is a fusion of flavor notes that exhilarate you and satisfy the most intense thirst. Every inhales strikes your tongue with tart berry flavor making you feel that saliva is flowing as the tartness slowly turns into the vitalizing tang. When you exhale, the natural sweetness of the berries will take over, amusing your sweet tooth.
Berry Dweebz by Candy King
Berry Dweebz by Candy King is a berry-flavored vape juice that recalls childhood cigarettes of sweet and tart. Each inhale covers your taste bud with delicious sweet and tart berries. The tang of berries will tickle your tongue while the sweetness swiftly intensifies. Each exhale leaves a taste that is a blend of sweetness and tartness that quenches the thirst like no other beverage. And the sugary candy finish maximizes the pleasure of your sweet tooth.
Berry O's by Tasty O's
Berry O's by Tasty O's is a variation of a bowl of honey nut oats cereal topped with just the right amount of tart berries. It will hit all the right breakfast notes on your palette, the sweetness from the berries along with the nuttiness from the honey oat cereal balanced with a sweet powdered sugar coating. So go for it and have a relishing experience.
Berry Pops by Vape 100 Cream Collection
Berry Pops by Vape 100 Cream Collection offers a balanced blend of vanilla cream e juice mixed in with a handful of blissful fresh berries. On the inhale of this vape juice things start off with a subtly tart delivery. And the finish highlights the creamy milk taste offering sweet delight. The vape juice is neither too sweet nor too cakey i.e. a perfectly balanced flavor to try.
Want to explore more berry-flavored vape juice options with us? Visit our website today!