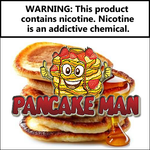 Flavors are essential to vaping. As soon as you find the appropriate setup, the search for your all day vape begins. You want a flavor, you will never get tired of, no matter how much you vape. But finding that one special juice isn't easy. There are just too many flavors!
Pancakes are the most favorite breakfast treat, and while the majority of the people enjoy the hotcakes on a plate, some enjoy their favorite flavored pancake in a tank. Are you more of a classic person? Try our Pancake Man Reload by Vape Breakfast Classics. If you are a syrup or butter lover, you are going to love our huge selection of pancake ejuices.
At EJuice Store we carry a wide variety of Pancakes flavored e-juice liquid for sale at great prices. We have the popular Pancakes flavored vape juice created from the renowned brands of Pancakes flavor e-liquids. Out of other different types of vape juices, Pancakes flavor are some of our personal favorites and best-selling Pancakes e-liquids. If you prefer your ejuice with extra cake and a kick of syrup, check out our delicious flavors that make for a refreshing vaping experience. They will give you all the taste you desire without the calories. Gift yourself with a new Pancakes e-liquid today.
Let's see if any of these make your Top 4 Pancake Ejuices of this year.
Pancake Man Reload by Vape Breakfast Classics
The Pancake Man Reload vape juice is a revamped version of Original Pancake Man - the most popular flavor of Vape Breakfast Classic, with explosive and delicious flavor. Buttermilk pancake flavor blended with maple syrup and cookie butter will give you a vaping experience like no other. This ejuice is truly is a delicious blend that won't disappoint you!
Pancake Man Tooty Frooty by Vape Breakfast Classics
This vape juice serves up a stack of pancakes blended in syrup and candied fruits. If you have ever loved the original Pancake Man E-Liquid, you will fall head over heels in love for its encore. We bet you will never go for any other stack of flapjacks ever again. If you love breakfast all day long, you can now enjoy this ejuice anywhere, any time by getting your vape out and taking a puff. Welcome to Tooty Frooty Pancake Man universe!
Deluxe Pancake Man by Vape Breakfast Classics
The vape juice brings a new twist on the classics' flavor. The creators of the ejuice have combined the original Pancake Man flavor along with Marshmallows, Fruity Pebbles, and Vanilla Ice Cream. They have turned the flavor into something unbelievable, that everyone will fall in love with during their vaping experience.
Pancake Man by Vape Breakfast Classics
Do you remember the flavor that you get when you make a fresh batch of pancakes and smother them in fresh maple syrup and top them off with whipped cream and fresh strawberries? You get Pancake Man! This vape juice is sure to bring the breakfast table with you on the go. Enjoy this delicious ejuice any place and at any time of the day.
So what are you waiting for? Place the order for your most loved Pancake ejuice flavor from ejuicestore.com today!