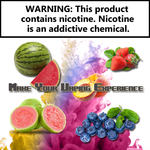 People who some do relish the habit even though it bring with it several health issues, particularly in the later stage of life. If you're dependant on nicotine to calm down it's advised to switch to a less injurious way of enjoying a nicotine hit whenever you feel you require one.
Vaping is perhaps one of the best way to help you with quitting cigarettes. There're no shortages of appetizing vape juice flavours if you want to enjoy your vaping experience to the fullest. Listed below are a few of them:
Strawberry Watermelon by Juice House:
If you are looking for a strawberry watermelon vape juice, give Strawberry Watermelon by Juice House a try. On inhale you will enjoy a burst of delicious strawberry & watermelon flavour that will send you to paradise almost immediately. Available with a nicotine strength of 0mg, 3mg, and 6mg, this vape is juice is worth trying if you are a fan of bubblegum vape liquids.
French Dude by Vape Breakfast Classics:
Looking for a dreamy breakfast in bed experience. Give French Dude by Vape Breakfast Classics a try! On inhale enjoy beautifully fried cinnamon French toast, plum blueberries and an elegant touch of maple syrup. This vape juice is available in 0mg, 3mg, and 6mg strength – so choose your nicotine level wisely.
Check out Guava Peach by Juice Head which is a delicious and refreshing blast of flavour that rejuvenates your taste buds like a mouth-watering smoothie on a summer day. On inhale, its tropical guava splashes takes your taste buds to another height of self-enjoyment. On exhale, you will surely relish a fruity peach mix of delicious flavours. As far as nicotine strength is concerned, you can buy this vape juice in 0mg, 3mg and 6mg respectively.
If you are looking for a pure summer watermelon delight, then give Watermelon by Skwezed a try. Enjoy a juicy blend of ripe watermelon on every puff you inhale. Nothing better on a hot summer afternoon than enjoy your favourite summer fruit in the form of vape juice. With its natural, realistic organic watermelon flavour, Skwezed Watermelon lives up to its name.
Peach Blue Razz by Cloud Nurdz:
Enjoy a combination of raspberries and blueberries blended together into one masterpiece. On inhale enjoy a sweet blueberry taste & tartness from the raspberry that will make your mouth to drool like a waterfall. On exhale enjoy the combination of ripe peach and gummy ring candy that complements the sweet fruity inhale perfectly.
If are looking to save on these above-mentioned vape juice and other e-juice from top brands, then don't hesitate to shop through ejuicestore.com